Articles Listed By Date
List By Popularity
(27 comments) SHARE

Tuesday, January 15, 2013
To BE - or Not to BE: Is Mankind in Midst of a Millenia Long Evolutionary Step?
Modern man has been around for up to 100,000 years, but only recently, during the last approx. 3000 years, agriculture, science, commerce, technology, architecture, philosophy and religions arose. I propose the idea that man is in midst of a millenia long evolutionary step, only half conscious, half way between animal and full fledged homo sapiens sapiens. But there is age old insight into our true nature's shortcomings...
(7 comments) SHARE

Thursday, December 8, 2011
Standard & Poors: Tiny Private Company threatens World's 4th largest Economy
The rating insanity continues: the private company Standard & Poors downgrades Germany, the world's 4th largest economy.
(8 comments) SHARE

Wednesday, November 30, 2011
Green Demons Rising
What do we want? A poem that I conceived during an experience of near "enlightenment" while studying in Hawaii - a phase that deeply transformed me and sent me off to seek for another track. After almost 18 years I still am recovering from the shock. Where is mankind going? And why? Why do we allow us to be controlled by something that does not even exist?
(15 comments) SHARE

Thursday, March 17, 2011
Michio Kaku: "We live in a Bubble" - eerily familiar excerpts from an older interview
I conducted a long interview with the famous Physicist Michio Kaku, where we also talked about the possibility and likelyness of extraterrestrial civilizations. One major aspect was global terminal risks, and much of what we talked about sounds eerily familiar in the light of the current events at Fukushima.
(1 comments) SHARE

Tuesday, December 7, 2010
Last Dance of the Dinosaurs? Mixed Feelings after the German Sustainability Day in Düsseldorf
On November 26 the German Sustainability Award was presented at a Gala in the Düsseldorf Maritim Hotel in Germany after a day of workhops and presentations with world leaders in the environmental field. The Gala Guests represented approximately 2 trillion US Dollars in turnover, and the author of these words still is not sure what all this was about. Sustainability of a new industry brand? Last manager standing? We shall see.
(5 comments) SHARE

Thursday, July 1, 2010
Bycatch - or Searching an Ethics for the Oceans
What is Bycatch? Is it a necessary evil of the fishing industry, or can it be avoided? What does it mean that we just throw away millions of tons of living beings? How can we change our global behavior and attitude towards the world that surrounds us?
(8 comments) SHARE

Friday, June 25, 2010
Black Rain and the Wrath of God: a call to think and feel
What does the Oil Disaster in the Mexican Gulf mean in a christian religious context? A challenge.
(7 comments) SHARE

Saturday, June 12, 2010
Anger, Sadness and Shame: Where are the Prophets and Visionaries?
The exponentially growing economy drives resources and carrying capacities to their limits, increasingly risks like deep ocean drilling are taken that can lead to environmental and human disaster, while governments around the world cope with the financial crisis by fueling the very fire that caused it. It is time to listen to the facts of science combined with sounds of wisdom of all times to change the course of destruction.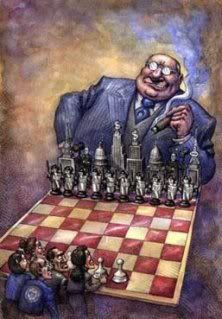 (1 comments) SHARE

Friday, January 29, 2010
A War Against Money?
Who is ruling the world? Elected Governments by means of democratic legitimation or banks and corporate powerhouses by means of financial might and corruption? Are we seeing the emergence of a conflict for power in the globalized world? A conflict between governments and corporations - between democracy and money?
(2 comments) SHARE

Friday, October 3, 2008
Empire of Greed
Money and economic growth have become the exclusive focus of media and policy attention, but it may be time to undertake an all encompassing reality check and seek for more appropriate values in a complex world - values rooted in reality. This short essay explores some of the potential root questions.