Articles Listed By Date
List By Popularity
(3 comments) SHARE

Monday, October 10, 2011
The next #OccupyWallStreet might not be tweeted
It has been evident for for some time to the Kleptocracy that the Internet is one critical part of the media that they still don't control. And while we mobilize online, it has already scouted the terrain and is maneuvering to make it a yet another minefield of deceit, containment, and censorship.
(15 comments) SHARE

Sunday, October 2, 2011
Why Democrats must embrace Occupy Wall Street
Occupy Wall Street needs a makeover and the Democratic Party needs to grow some eggs. Not only is this a political match made in heaven, such an effort could possibly save the nation.
(1 comments) SHARE

Saturday, May 14, 2011
GOP Congresswoman Gets Sham Award From Big Pharma Front Group
Congresswoman Nan Hayworth voted to kill Medicare as part of the Paul Ryan 2012 Budget. But now she's trying to hide this by bringing in an astroturf group with a sham award.
(2 comments) SHARE

Thursday, May 5, 2011
40 percent of GOP says Obama deserves no credit for demise of bin Laden
This Republican Party is marked by fierce partisanship to the point of mass neurosis. And while a large percentage of Republicans still don't believe that the President has the right to be Commander-in-Chief, a strikingly similar percentage don't believe he deserves credit for acting quickly and decisively in protecting our nation from the world's most infamous terrorist.
(1 comments) SHARE

Monday, December 13, 2010
New Tea Party Rep Backs Earmark-Crazed Colleague for Appropriations Chair
After running for Congress on an anti-earmarks campaign, Representative-elect Nan Hayworth (NY-19) was quick to change her tune. She's backing the "Prince of Pork," for Appropriations Chair.
(1 comments) SHARE

Monday, November 1, 2010
Illegal donations to Scott Vanderhoef's campaigns alleged
County Executive C. Scott Vanderhoef, already well-known for his "pay-for-play" style of politics in Rockland, allegedly took in thousands in illegal campaign contributions during his 2009 County Executive Race. So, how can he possibly be running as a reform State Senate candidate?
SHARE

Thursday, October 21, 2010
SD-38: Scott Vanderhoef's ties to Albany corruption
New York Republican State Senate candidate Scott Vanderhoef is trying to tie his opponent to corrupt Albany politicians when no real link exists. However, he's got some real links to the worst politician in New York.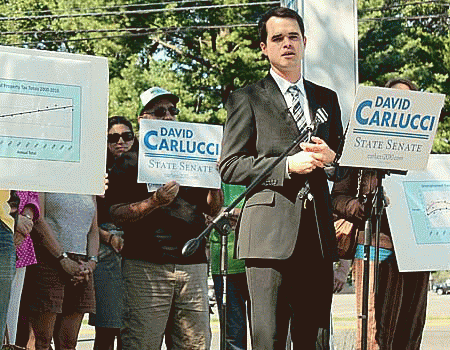 (1 comments) SHARE

Monday, September 6, 2010
NY State Senate: Carlucci unveils jobs program while Vanderhoef fiddles
The glaring differences in a hotly contested New York State Senate race highlight that Republicans still have no viable economic development plan at any level.
SHARE

Sunday, August 29, 2010
NY-19: Nan Hayworth's Notaries Admit to Misconduct
The question of election integrity comes into play in New York, where three Republican campaign notaries admitted to misconduct on the stand in regards to the handling of Independence Party petitions.
(1 comments) SHARE

Tuesday, June 22, 2010
John Hall opponent backs BP apologist and Big Oil
Congressional candiate Nan Hayworth is backing BP apologist Rep. Tom Price after he admonished President Obama for using his office to keep taxpayers from footing the bill of the BP oil spill. Her actions further reveal the truth of the Republican Party: It is not a party with the interests of taxpayers in mind, it is the party of corporatism, and Bill Oil is its king.
SHARE

Sunday, June 6, 2010
Tea Party vs. GOP? NY 17th Rivalry Becomes Physical
The infighting between the Tea Party and the GOP establishment is growing, with Tea Partiers now claiming things got physical when New York State Republican Vice Chair Vincent Reda pushed and threatened a popular Tea Party blogger and campaign manager. The claim underscores how bad blood between the two factions may be ready to explode into all-out "scozzafavation".
(2 comments) SHARE

Sunday, July 26, 2009
Mika Brzezinski plays the race card and loses
The Morning Joe co-host tries to conjure up a sense of moral outrage over President Obama's remarks regarding the arrest of Prof. Henry Louis Gates. But in the end, her poorly thought-out diatribe falls flat.