Would you like to know how many people have visited this page? Or how reputable the author is? Simply
sign up for a Advocate premium membership
and you'll automatically see this data on every article. Plus a lot more, too.



cipamericas.org
SHARE




Become a Fan.
You'll get emails whenever I post articles on OpEdNews
Gloria Munoz Ramirez worked for the Mexican newspaper Punto, for the German news agency DPA, for the U.S. newspaper La Opinion and for the Mexican daily La Jornada. She has lived and worked in Chiapas for many years. She is the author of
The Fire and the Word: A History of the Zapatista Movement
(
El fuego y la palabra: Una Historia del Movimiento Zapatist)
. She has written numerous articles for
cipamericas.org
.
OpEdNews Member for 460 week(s) and 5 day(s)
2 Articles, 0 Quick Links, 0 Comments, 0 Diaries, 0 Polls
Articles Listed By Date
List By Popularity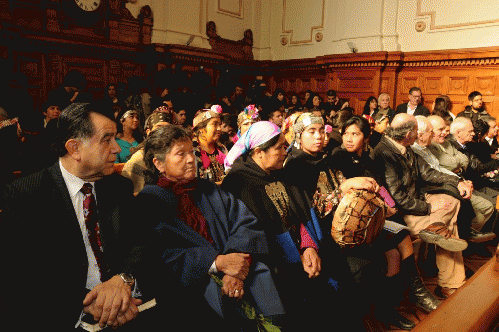 SHARE

Thursday, February 7, 2013
In Chile, Plunder and Perverse Laws against the Indigenous Population
The Coordinadora Arauco Malleco (CAM)in Chile refuses to allow the Chilean government to define the Mapuche people as terrorist criminals when they are fighting to preserve & protect their traditions, language, ancestral organizations & land.
SHARE

Monday, February 4, 2013
"We Are Here": Zapatistas Send Silent Message With the Return of the PRI
Do you know what the Zapatista Movement is? Imagine close to 50,000 people marching in absolute silence, in five different townships, from two to five hours apart. Not a word, nor even a greeting. Just a raised fist in a sign of strength, determination and unity.