By Jennifer Umolac of ImpeachforPeace.org -- On Tuesday, October 23rd, Impeach for Peace was granted a meeting with Representative John Conyers in Washington DC to discuss H. Res 333 and the status of impeachment. The meeting took place in the Judiciary Offices of the Rayburn building and was attended by Rep. John Conyers, an aide to Rep. Conyers and myself. There was no scheduled endtime for the meeting and ultimately the meeting lasted nearly 45 minutes. During this time many different aspects of the impeachment process were discussed. Representative Conyers was very generous with his time and made it very clear that he considers it very important for him to continue these conversations about impeachment. Unlike during his visit to Minneapolis, Rep. Conyers did not mention the matter of "time" as one of the factors against bringing forward H. Res 333. His most prominent rationale for not bringing forward the resolution was that he felt there wouldn't be support for the measure and subsequently that it wouldn't go anywhere. He spoke about all of the freshman Congresspeople who were elected in Red States and how they were unlikely to come out in favor of impeachment. He then stated that if he weren't in his position, he would be "one of you...lobbying for impeachment." I implored him to be one of us IN his position and to lobby his fellow Representatives in support of H. Res 333.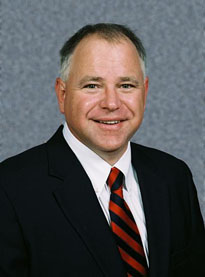 I also mentioned to him that I had a conversation with a Minnesota Representative, Tim Walz, who was in exactly that position, representing a traditionally conservative area that had narrowly elected him. In our conversation on impeachment, Rep. Walz had stated that though he wouldn't sign on to H. Res 333, he would support articles of impeachment should they come to the floor. I suggested that this might be a far more widespread stance than he would expect.



Representative Conyers then discussed some of the on-going investigations and mentioned that the Judiciary Committee was going to go forward with Contempt of Congress charges against Harriet Myers, and that the best way to hold this Administration was by continuing with the investigations.


At this point in our meeting we were joined by Congressman Keith Ellison, who represents the 5th District of Minneapolis, home to ImpeachforPeace.org. Congressman Ellison is a co-sponsor of H.Res 333. There was much discussion of the discontent with Congress and the perception of many that this Congress has done nothing to hold the Administration accountable for the many abuses of power that have occurred.



Copyrighted Image? DMCA
When I expressed dismay with Speaker Pelosi's leadership and asserted that, in my opinion, she had castrated the Democratic party by taking impeachment off the table, Congressman Conyers said "well, maybe we should get new leadership." As we were leaving the meeting room, on our way to a filming for BET, we were again discussing bringing forward H Res 333 and the Congressman turned to me and said, "I really want you to convince me to do this."


When we arrived at the location for the filming, Rep. Maxine Waters was coming out of the room and Mr. Conyers stopped her and introduced me to her saying "This is Jennifer and she's here to lobby me on impeachment." To which Rep. Waters instantly replied, "it's never going to happen." She then said, "I wish I could tell you something that would give you some hope, but I can't." I said to her, "Then maybe I can say something that will give you some hope," and launched into a quick lobbying effort. I asked Rep. Waters if I could walk with her to her office, and we subsequently spent the next 5 minutes debating the "practicalities" of impeachment. (How impractical to defend the Constitution!) She seemed most moved by the argument that the Democrats are in danger of blowing the 2008 elections if decisive actions aren't taken to show the electorate that the Democratic party is interested in change.


Upon returning to the filming for the BET segment, I had the good fortune to catch Rep. Conyers as he sung the praises of heroes such as Rosa Parks and Martin Luther King who led movements that brought about social change that at the onset seemed impossible. Leaving the room, I mentioned to him how glad I was to hear him honor those leaders who had stood up for what was right, despite the odds, and urged him to be that same kind of leader for his country and bring forward the articles of impeachment.

Jennifer Umolac
Impeach for Peace