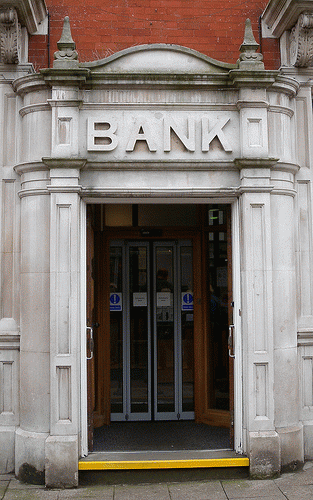 Bank
(
Image
by
Steve Parker
)
Details
DMCA
Are cooperative businesses the way to achieve the end of capitalism and create an egalitarian society without class inequality and exploitation? Some people believe they are, as this article by Carl Gibson (a co-founder of US Uncut), titled "Cooperative Economics: Replacing a Collapse in Capitalism," illustrates.
The article is about two kinds of cooperatives, living arrangements and businesses. The part of the article that discusses the advantages of cooperative living arrangements makes some valid points. But the article is wrong in claiming that cooperative businesses, like "the Mondragon co-op in Spain, the world's largest successful co-op business with 83,000 employees," should be "our new economic model" to replace capitalism.
The problem with the worker-owned cooperative business economic model is that this model retains one of the most important defining characteristics of the capitalist model with which we are so familiar today: production of commodities to be sold for a profit in the market place (as is the case with the Mondragon co-op, discussed here).
The appeal of this "coop" economic model is, of course, that it entails the workers of a business being the owners of the business as well, rather than the owners and workers being distinct people.
Since the workers are the owners, there is no exploitation of the former by the latter; no longer is it the case, in other words, that an owner obtains a profit by paying workers less than the value they add to raw materials in making a product (or service), which product the owner then sells for its full value (including allof the value the workers added to it) in the market place, claiming to be the sole owner of the product because he/she asserts sole ownership of the means of production required by the workers to produce it.
Arguments for the "coop" economic model only discuss the benefits of workers being the owner; they never discuss the serious problem of it retaining the capitalist character of production for profit.
What Are the Consequences of Production-For-Profit?
Next Page 1 | 2 | 3 | 4 | 5 | 6 | 7
(Note: You can view every article as one long page if you sign up as an Advocate Member, or higher).