On hearing of Senator Feinstein's Assault Weapons Ban being removed from the gun control package being pushed through Congress, many in the media and the non-shooting public (a.k.a. the "non-gun culture") were flabbergasted. To them, it is unfathomable that making these "weapons of war" available to the public can have any popular or political support. Also "MIA" in the current legislative package is the ban on "high capacity magazines," which may come up as an amendment but has been absent from recent discussion. Finally, on last Sunday's "Meet The Press," a seemingly resigned Michael Bloomberg settled for comprehensive background checks as his new #1 priority--and even that seems to be hanging by a thread in Congress.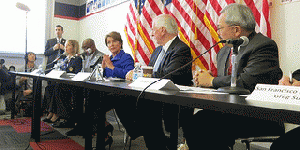 Congresswoman joins community leaders to discuss gun violence prevention

(

Image

by

Leader Nancy Pelosi

)

Details DMCA


Congresswoman joins community leaders to discuss gun violence prevention by Leader Nancy Pelosi


As the issue is outlined, the proposed comprehensive background checks would stop convicted felons and the dangerously mentally ill from legally buying guns, even from gun shows or from private sales. The proposal seems a model of common sense. So, again, in the face of gathering resistance against it, the non-shooting public is aghast and asks: "What's wrong with the NRA and congressmen who oppose this measure?"

What's wrong, indeed! The non-shooting public needs to know one important thing: both sides in this debate are playing politics. The media just love to trash the NRA, which is a bit like blaming the auto club for drunk drivers. But gun ban proponents themselves have literally derailed what might have been "common sense" gun legislation in at least one area, which I'll get back to in a moment. First, there are some things that non-shooters need to know:

1. There is an enormous gulf between "gun culture" and "thug culture." Your average American gun owner will never commit a crime. They jump through all of the legal hoops. The crimes you read about and see on the news aren't committed by roving bands of disgruntled NRA members. They're committed by gangs, drug dealers and street thugs. Packs of CCW permit holders aren't doing drive-by shootings in the inner city.

2. The "assault weapons" issue is based on a lie. What are being described as assault weapons are actually not "weapons of war," nor are they any more powerful, deadly or sinister than the average deer rifle and other sporting arms. They are NOT machine guns! You can't "spray bullets" with them. What can confuse those unfamiliar with guns is that they have similar, mostly cosmetic, features to those found in firearms used by our military. (See: http://www.firearmscoalition.org/index.php?option=com_content&view=article&id=651:assault-weapons&catid=19:the-knox-update&Itemid=144)

The cosmetic similarity between domestic "assault weapons" and military weapons is being exploited by those who want to ban all firearms. One gun ban group, the Violence Policy Center, posted this on its website: "The semi-automatic weapons' menacing looks, coupled with the public's confusion over fully automatic machine guns versus semi-automatic assault weapons--anything that looks like a machine gun is assumed to be a machine gun--can only increase the chance of public support for restrictions on these weapons." This last sentence plainly reveals the advocacy group's true strategy: to purposely deceive the public into supporting a ban on these weapons by capitalizing on their ignorance.


It is true that semi-automatic rifles were used in two recent high-profile shootings, Sandy Hook and the Aurora Colorado theater shooting. Overall, however, these guns are very rarely used in such crimes. The recently released FBI uniform crime report shows that rifles are used in less than 4% of all murders using guns, and "assault weapons" are only a small subset of rifles! Given that the banning of semi-automatic rifles would have almost no value in actually saving lives, what becomes clear is that the effort to do so is nothing more in essence than political theater for the politicians and a "good first step" for those who champion civilian disarmament.

3. High-capacity magazines, sometimes erroneously referred to as "clips,' are in fact not high-capacity! They have been in standard use since the 1960s, and are a large part of the appeal of most semi-automatic firearms. Calls to limit these magazines to 10 rounds place an arbitrary number on ammunition capacity for no good reason. We know this for a fact. During the Clinton Administration, so-called "assault weapons" were banned, along with magazines holding more than 10 rounds. The ban ran for ten years. At the end, the government's own research showed that the ban made "no measurable difference" in the frequency of spree shootings, or of the number of those killed or injured in an attack. (See: http://www.thecommunityguide.org/violence/Violence.pdf and http://www.ncjrs.gov/pdffiles1/173405.pdf).

In terms of the gun control package now making its way through Congress, this leaves for consideration here only the proposed "universal background check." Because this proposal was initially supported by the NRA, it has allowed the media to make great hay out of portraying the NRA as "inconsistent" and "turncoat." The allegations are not true, of course. They are more politics.

The so-called "gun show loophole" never really existed. For one thing, two notable surveys of criminals serving time in jail for "gun crimes" showed that fewer than 2% of guns came from such a show, and these accounted for only a paltry portion of gun-to-criminal traffic. The real issue here is private sales. For instance, if a legal gun owner has a gun to sell, he or she might post an ad online, or on a community bulletin board, or in the classified ads of their local paper. OR, they might take the gun to a gun show. However, even if they wanted to run their own background check there--and, as a gun owner, I would want to know if the person I'm selling to is prohibited or not--they are prohibited by law from accessing the National Instant Check System (NICS). Wouldn't it make sense, then, for authorities to authorize a special limited-time access to the system for the private seller? Sure it would.


But not, apparently, if you're a gun ban activist!

Instead, the current bill would force a private seller to go through an FFL (Federal Firearms Licensee) dealer to run a check. Here's an analogy for what such a procedure would require: Suppose you have a car to sell, and your neighbor wants to buy it. The government, however, mandates that you head over to your local car dealership where they do all of the paperwork. Naturally, they don't want to do this paperwork for free! Your sale is "the competition," and you're taking up their time, so they will impose a fee on each sale. In the case of guns, an additional $25 to $50 fee on each sale might make that sweet deal on a revolver look not so good and deter a sale. Yet the FFLs would have no such de-facto tax.

Even those who see this as a tolerable compromise are missing the one last thing the gun ban lobby is insisting on: using the NICS system as a registry of guns and their owners. Computers are outstanding at collecting and recording information. Each time an NICS check is run under current law, the record of the transaction must be destroyed within 30 days. This gives law enforcement plenty of time to pull records if there's a legal issue, yet does away with storing millions of sales of transactions between innocent people who will never commit a crime. But here come the gun ban people once again, this time insisting that the new, expanded check system be required to collect this data into a national registry. They maintain that such a registry will help law enforcement solve crimes, yet it is unclear as to exactly how that is supposed to work. There is currently no prohibition of records of felons and other prohibited persons who attempt to buy guns being kept to prosecute them, since said attempt is a felony. What utility would a registry of the innocent serve?

The quick answer is to confiscate weapons. Naturally the media and gun ban forces malign this idea as "paranoia" and characterize those who believe it as tinfoil-hat-wearing conspiracy nuts, perhaps in the hope that the general public has a very short memory or would not hit the Internet to check the facts for themselves. If they did, they would find that such registries nearly always end up with police or militia going door-to-door seizing weapons from the public. And we're not talking ancient history or about some anecdote in a faraway land! Instead, how about New York and California?

A New York law enacted in 1967 for long guns was used to confiscate legally owned shotguns and rifles in the early 1990s, because they had suddenly been dubbed "assault weapons." (See: "All the Way Down the Slippery Slope: Gun Prohibition in England and Some Lessons for Civil Liberties in America", Hamline Law Review, 1999. Also see the NRA fact sheet at: http://www.nraila.org/Issues/FactSheets/Read.aspx?ID=41)


In California, despite assurances that their registration would never be used to confiscate legally owned guns, the state's Department of Justice declared the SKS sporter rifle, which has a detachable magazine, illegal in 1999. After a brief period where the state government offered owners a "buy back" option to turn in their rifles for a fraction of their true value, they used the registration rosters to send police around to scoop up the formerly legal firearms. (See the original NRA alert to SKS owners at http://www.nramemberscouncils.com/contracosta/FaxAlerts/sksalert.shtml). One such rifle was seized from a police officer who also collected firearms, begging the question of whether the DOJ seriously thought of the ban as a true crime-fighting measure. Instead, it was sheer political theater.

So to those who see the idea of a comprehensive background check for gun purchases as "common sense," the true culprit that threatens its passage is not the NRA, nor is it the "influence of the gun industry." It's the political gamesmanship of the gun ban extremists who care less about saving lives and more about banning all weapons to achieve some imaginary gun-free Utopia. I don't know if such a dream is wise or not, but I do know that we should not be playing politics with lives. Gun control fans: look to your own. Then call your senators and representatives and tell them to implement this bill the right way: FREE checks to all sellers and no registry.