The nationally syndicated talk show host Rush Limbaugh accused the NFL of working for the Democratic Party on Friday and pilloried James Brown for Brown's pre-game comments about domestic violence Thursday night.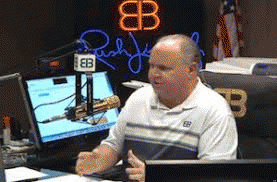 Rush Limbaugh
(
Image
by
Dean Powers
)
Details
DMCA
"This is going to be the death of this sport," Limbaugh said. "It's about guns and gays and domestic violence."
"I watch football for football," he continued. "I don't need a lecture about domestic violence."
Limbaugh also said that his black friends had asked him what the argument was about and that, according to them, it "mattered."
Limbaugh said politics were partially to blame for the NFL's conversation about domestic violence. He blasted 16 Senators who signed a letter calling for a one-strike policy on domestic violence in the NFL.
Limbaugh's comments come in the wake of a
video
released this week showing the former Baltimore Ravens running back Ray Rice punching his then fiancee in a casino elevator.
Limbaugh's comments are part of puzzling response to the Rice incident. Fox and Friends
joked about the assault
this week with co-host Brian Kilmeade saying, "I think the message is, take the stairs." There were also a lot of female fans
wearing Ray Rice jerseys
Thursday night.
Limbaugh addressed this in his program saying, "The media gets on something and starts out with the assumption that everybody is in agreement with them...if you don't agree with them you're a moron."
Never strike a woman. What I want to know is where is the father figure looking after his daughter? A father I know from the country told his son in law to never raise his hands against her in anger. Where is Janay Palmer's father to avenge what happened to his daughter?
(Article changed on September 13, 2014 at 08:42)