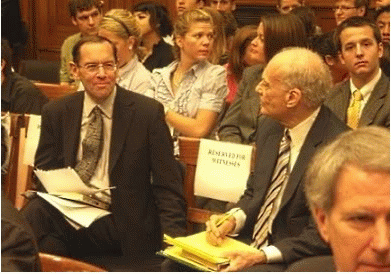 Vincent Bugliosi (right) and Bruce Fein (left) at House Judiciary Committee hearing on Bush impeachment 2008

(

Image

by

Michael Collins

)

Details DMCA

>

"If we want to deter future presidents from taking this nation to another war under false pretenses, some president in the future that gets a funny thought, I think that deterrence would increase immeasurably if he knew what America did to George Bush, put him on trial for murder, and if he was convicted, of course, the punishment would either be life imprisonment or the imposition of the death penalty." Vincent Bugliosi, Murder Trumps Torture - An Interview, Michael Collins, Aug 8, 2009


Vincent Bugliosi was a true patriot and a tireless, fierce advocate for the people. His death at age 80 marks a time to remember his vision of an American future based on decency, civility, and the respect for both the law and the people the law should protect. This article excerpts three interviews I conducted with Bugliosi on his 2008 book, The Prosecution of George W. Bush for Murder.

Bugliosi was one of the nation's top criminal prosecutors. He won 104 of 105 murder cases including the conviction of Charles Manson and his followers the late 1960s. For years, Bugliosi was also the nation's top true crime author. His best seller, Helter Skelter (over 7 million copies sold) offered a behind the scenes narrative of the Manson Family prosecution and Charles Manson's extraordinary criminal deviance.

Bugliosi left the full time practice of law to pursue a career in writing primarily in the true crime genre. He had three number one best sellers on the New York Times list and numerous other successes.

The biggest true crime Bugliosi took on was the charge of murder against former President George W. Bush. He wrote a detailed brief for any local prosecutor willing to take the case. The book provided a detailed, fully documented legal brief that proved beyond any doubt that by lying the country into war, Bush was responsible for the deaths of every American soldier killed in that war. The book, The Prosecution of George W. Bush for Murder, was uniformly ignored by the mainstream media that had always sought out Bugliosi for interviews on his latest work or screen rights to his books.

Despite the mainstream media boycott of Bugliosi's scathing, precisely argued, and well-documented book, the author would not be denied. Through alternate media news and opinion web sites and internet radio shows (including Rob Kall's radio show), Bugliosi built an audience for his argument and book. Once again, this time without any help from mainstream media, Bugliosi saw his book on the New York Times bestseller list.

It was my privilege to interview Bugliosi on three occasions, two concerning his Bush prosecution book and one on President Barack Obama's cavalier dismissal of Bush administration crimes. He knew exactly what he wanted to say, said it brilliantly, and was courteous to a fault. Of all the public figures I have observed over the years, Vincent Bugliosi was the only one I ever truly wanted to converse with at any length. I am grateful for that opportunity.

The following sections are select quotations from extensive interviews on Bugliosi's book outlining a murder case against a sitting president.


Michael Collins: An Interview with Vincent Bugliosi, Part I, August 7, 2008 -- Making the case for The Prosecution of George W. Bush for Murder
Vincent Bugliosi: Apparently its okay for George Bush to take this nation to war on a lie, to be responsible, criminally responsible for well over 100,000 deaths, but it's not okay to prosecute him. Not only isn't it okay to prosecute him, it isn't even okay to talk about prosecuting him. This is unbelievable what's going on in this country. How can we have a country where they permit a president to do what he did and they do absolutely nothing to him except to try to protect him?

I can tell you that if the case went to trial, the central, overriding issue at Bush's trial, would be whether or not he took this nation to war in self"'defense as he claimed he did: that Hussein had weapons of mass destruction and therefore he was an imminent threat to the security of this country, so we had to strike first in self"'defense.


If the prosecutor " could prove that he did not act in self"'defense and he took the nation to war under false pretenses, then all of the deaths of American soldiers in Iraq would become unlawful killings. All of those killings would become unlawful killings and therefore murder.

This is just -- you know, I hate to use the word terrible over again, but it's just absolutely terrible, and the question is how evil, how criminal, how perverse, how sick can George Bush and his people be? And yet they got away with all of this. As I'm talking to you right now, there are well over 100,000 people -- some estimates go in excess of a million -- well over 100,000 precious human beings who are in their cold graves right now because of it. But so far, George Bush has gotten away with murder and we, the American people, cannot let him do this. He's gotten away with murder, and no one is doing anything.

But let me tell you this: For the first time in my career, it's very personal with George Bush, and I'll tell you why. If I prosecuted him and Cheney and Rice or whoever else, Cheney and Rice it would not be personal. I would seek the death penalty against them, for sure. They deserve to suffer the ultimate penalty for what they did, no question about it. But it would not be personal. I'll tell you why it's personal with George Bush -- because the evidence is overwhelming, overwhelming. It cannot be disputed.
Bush, Manson, and the Media Blackout - Bugliosi Interview Part, Michael Collins, Aug 11, 2008 -- Dealing with the mainstream media boycott of his book on prosecuting George W. Bush for murder and more arguments for a trial of the former president

(Note: You can view every article as one long page if you sign up as an Advocate Member, or higher).