From Consortium News
Russian President Vladimir Putin, following his address to the UN General Assembly on Sept. 28, 2015.
(
Image
by
(UN Photo)
)
Details
DMCA
Repeating an accusation over and over again is not evidence that the accused is guilty, no matter how much "confidence" the accuser asserts about the conclusion. Nor is it evidence just to suggest that someone has a motive for doing something. Many conspiracy theories are built on the notion of "cui bono" -- who benefits -- without following up the supposed motive with facts.
But that is essentially what the U.S. intelligence community has done regarding the dangerous accusation that Russian President Vladimir Putin orchestrated a covert information campaign to influence the outcome of the Nov. 8 U.S. presidential election in favor of Republican Donald Trump.
Just a day after Director of National Intelligence James Clapper vowed to go to the greatest possible lengths to supply the public with the evidence behind the accusations, his office released a 25-page report that contained no direct evidence that Russia delivered hacked emails from the Democratic National Committee and Hillary Clinton's campaign chairman John Podesta to WikiLeaks.
The DNI report amounted to a compendium of reasons to suspect that Russia was the source of the information -- built largely on the argument that Russia had a motive for doing so because of its disdain for Democratic nominee Clinton and the potential for friendlier relations with Republican nominee Trump.
But the case, as presented, is one-sided and lacks any actual proof. Further, the continued use of the word "assesses" -- as in the U.S. intelligence community "assesses" that Russia is guilty -- suggests that the underlying classified information also may be less than conclusive because, in intelligence-world-speak, "assesses" often means "guesses."
The DNI report admits as much, saying, "Judgments are not intended to imply that we have proof that shows something to be a fact. Assessments are based on collected information, which is often incomplete or fragmentary, as well as logic, argumentation, and precedents."
But the report's assessment is more than just a reasonable judgment based on a body of incomplete information. It is tendentious in that it only lays out the case for believing in Russia's guilt, not reasons for doubting that guilt.
A Risky Bet
For instance, while it is true that many Russian officials, including President Putin, considered Clinton to be a threat to worsen the already frayed relationship between the two nuclear superpowers, the report ignores the downside for Russia trying to interfere with the U.S. election campaign and then failing to stop Clinton, which looked like the most likely outcome until Election Night.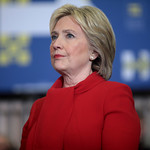 Hillary Clinton
(
Image
by
Gage Skidmore
)
Details
DMCA
If Russia had accessed the DNC and Podesta emails and slipped them to WikiLeaks for publication, Putin would have to think that the National Security Agency, with its exceptional ability to track electronic communications around the world, might well have detected the maneuver and would have informed Clinton.
So, on top of Clinton's well-known hawkishness, Putin would have risked handing the expected incoming president a personal reason to take revenge on him and his country. Historically, Russia has been very circumspect in such situations, usually holding its intelligence collections for internal purposes only, not sharing them with the public.
While it is conceivable that Putin decided to take this extraordinary risk in this case -- despite the widely held view that Clinton was a shoo-in to defeat Trump -- an objective report would have examined this counter argument for him not doing so.
But the DNI report was not driven by a desire to be evenhanded; it is, in effect, a prosecutor's brief, albeit one that lacks any real evidence that the accused is guilty.
(Note: You can view every article as one long page if you sign up as an Advocate Member, or higher).