From Truthout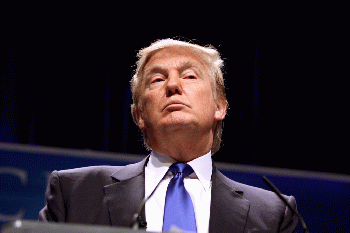 Donald Trump
(
Image
by
Gage Skidmore from flickr
)
Details
DMCA
As masses of people poured into the streets to celebrate the end of Donald Trump's fascist rule, the lame duck president's lawyers were filing frivolous lawsuits in an attempt to nullify Joe Biden's victory. But none of these suits, even if successful, would change the results of the election.
Shortly after CNN called the election for Biden, Trump said in a statement, "Beginning Monday, our campaign will start prosecuting our case in court to ensure election laws are fully upheld and the rightful winner is seated."
First of all, only prosecutors prosecute cases in criminal court. Private litigants in civil cases are called plaintiffs. And second, anyone who has the money to hire a lawyer can bring a lawsuit about anything. Thousands of legal actions are filed every day, but very few are taken seriously by judges. It's unclear whether Trump is even paying his hired guns; Rudy Giuliani once said he works for Trump without pay.
For months, Trump has mounted a concerted strategy to preemptively discredit the election results, spewing unsupported allegations of voter fraud with mail-in ballots. Republicans and the Trump campaign have filed myriad lawsuits, even before the election, all seeking to erect obstacles to voting.
Mindful that many more people than usual would vote by mail to protect themselves from the coronavirus, Trump sowed the seeds of doubt about the validity of mail-in ballots. With no evidence whatsoever, he fabricated claims of massive voter fraud. With no regard for the health risks, Trump encouraged his minions to vote in person, insisting the election results must be known on Election Day. Trump's supporters obliged and most voted at the polls. It was therefore no surprise that the overwhelming number of mail-in ballots were cast by Democrats.
Early Wednesday morning, as his putative lead began to evaporate, Trump tweeted, "We'll be going to the U.S. Supreme Court. We want all voting to stop." Trump had said in no uncertain terms that he wanted Amy Coney Barrett installed on the Supreme Court to decide the election in his favor. But although counting of mail-in ballots continued, no votes were cast after Tuesday.
"If you count the legal votes, I easily win. if you count the illegal votes, they can try to steal the election from us," Trump falsely claimed Thursday night. But as retiring Rep. Paul Mitchell (R-Michigan) tweeted, "a legally cast vote does not become 'illegal' simply because a candidate does not like the vote."
The same night, in a White House briefing, Trump said, again falsely, "We were winning in all the key locations by a lot, actually. And then our number started miraculously getting whittled away in secret." The tabulations were not conducted in secret; they were witnessed by both Republican and Democratic poll watchers.
Moreover, on election night, the count appeared to favor Trump since most Democrats cast mail ballots, which take longer to count. Some states, including Pennsylvania, forbid the counting of any ballots until Election Day. A Democratic-sponsored bill in Pennsylvania would have allowed mail-in ballots to be opened and counted before Election Day in light of the anticipated surge due to the pandemic. But Republicans in the Pennsylvania legislature defeated the bill. Since Trump's strategy was to declare victory on election night, the GOP forces likely sought to prevent mail-in ballots from diluting Trump's apparent early lead. Furthermore, election workers didn't even open mail ballots until November 4, since several counties required all workers to conduct the election on November 3. This explains why it took longer to report the vote counts in Pennsylvania.
On Saturday morning, Trump erroneously asserted, "I won this election, by a lot." At the time, Biden was leading in the electoral vote 253 to 214 and he had received 4,250,184 more popular votes than Trump.
The Pennsylvania Case
It was Pennsylvania that put Biden over the top in electoral votes. CNN and other news outlets called Biden the winner on Saturday morning. Trump falsely tweeted about ""Pennsylvania, which everyone thought was easily won on Election Night, only to see a massive lead disappear, without anyone being allowed to OBSERVE, for long intervals of time."
Again falsely, Trump also tweeted, "Tens of thousands of votes were illegally received after 8 P.M. on Tuesday, Election Day, totally and easily changing the results in Pennsylvania and certain other razor thin states."
Trump's challenge to mail-in ballots received in Pennsylvania between November 3 and 6 is the only case that the U.S. Supreme Court might review, and even that is unlikely, since those ballots would not alter the election results.
Twice before the election, Republican state legislators and the Republican Party of Philadelphia asked the high court to halt Pennsylvania's three-day extension for receipt of mail-in ballots. Twice they were rebuffed. The first time, the Court deadlocked 4-to-4, leaving the Pennsylvania Supreme Court decision in place. Chief Justice John Roberts joined the three remaining liberals Stephen Breyer, Sonia Sotomayor and Elena Kagan to uphold the state court's decision. Right-wingers Clarence Thomas, Samuel Alito, Neil Gorsuch and Brett Kavanaugh voted to block the ballots.
(Note: You can view every article as one long page if you sign up as an Advocate Member, or higher).