People asking questions lost in confusion,U.
Well I tell them there's no problem,
Only solutions,
Well they shake their heads and they look at me as if I've lost my mind,
I tell them there's no hurry...
I'm just sitting here doing time,
I'm just sitting here watching the wheels go round and round,
I really love to watch them roll,
No longer riding on the merry-go-round,
I just had to let it go.

(John Lennon, Watching the Wheels)

Barack Obama is the President-elect of the United States of America. I do not envy him. He has a few problems to deal with. It would be beneficial for him to take the wise advice of John Lennon. He needs to slow down and not let the extremists in his party push him to hurry and make short term oriented decisions. His legacy will depend on his solutions to major issues, that will impact our country decades after his presidency. Ronald Reagan bravely made a decision early in his Presidency to support Paul Volcker's tough economic medicine of high interest rates to kill inflation, knowing that it would cause a deep recession. He knew that what mattered was how the economy looked in 1984, when he ran for re-election. Mr. Obama will need to get off the merry-go-round of the political campaign and false promises. Short-term stimulus packages are the solution of weak minded politicians, like George Bush, Nancy Pelosi and Chris Dodd. Long-term thinking is what is required at this juncture of history.

The U.S. financial system is like a heart attack patient. Joe America (financial system) ate fast food (spent more than he made) at every meal, didn't exercise (ran up debt), and worked late (didn't save) at the office 6 days per week for the last 30 years. This ultimately led to a massive heart attack (worldwide financial crisis) and the patient has been kept alive through tremendous doses of drugs (interest rate cuts, Federal Reserve injections) and quadruple bypass surgery (bank, insurance company and car company bailouts) to keep the blood (money) flowing to the heart.

The Chief Surgeon (President Obama) now needs to convince the patient (America) to change his ways and eat right (spend less than you make), exercise (reduce debt) and live a more balanced stress free life (save for the future). If the patient hangs around with the same crowd (Nancy Pelosi, Barney Frank & Congress) and goes back to the old lifestyle (spend & borrow), it will be only a matter of time before he has a relapse (another financial crisis) and dies (collapse of capitalism). It is essential that the Chief Surgeon (President Obama) take the long view (farther than the next election) and lead the patient (America) to do the right thing (live within its means).

Barack Obama ran one of the best Presidential campaigns in history. At his first press conference after the victory, he looked a bit lost. It reminded me of the final scene in the movie The Candidate when Robert Redford's character has just surprisingly won his Senate campaign and says:

What do we do now?

Hopefully, one of Mr. Obama's brighter economic advisors, such as Paul Volcker, will sit him down before the inauguration and explain to him that the United States has no money. We are broke. Not only do we have no money, we owe $10.6 trillion for things we have already done, and $53 trillion for things we have committed to. Adding to these deficits will not be beneficial. He doesn't have to look back too far in history to see what happened the last time interest rates were at 1%, tax rebates were sent out to consumers, and government spending was ramped up. These actions after 9/11 led to the near collapse of our system. It is time for sacrifice, reduced expectations and some real blunt talk about the future. We did not get in this predicament because American consumers and the Government didn't spend enough or because banks and credit card companies didn't lend enough.

5% Solution

Tax cuts for 95% of Americans was a great campaign slogan. Forget it. Mr. Obama can not and should not follow through on this promise. I have no problem with him following through with a tax increase on the top 5% of earners. It is true that the top 5% pay 60% of the taxes. It is also true that the vast majority of these people are hard working, productive people who employ a huge number of Americans. These hard working people should be particularly angry with the small number of greedy, corrupt, gambling CEOs of large banks, investment banks and mortgage companies who raped and pillaged their way through our economic system. The American public is outraged at the immoral behavior of these highly educated MBA scumbags who sacrificed thousands of employees and billions of shareholder wealth for their own enrichment. A partial list of these excessive risk addicts, their compensation and impact on America follows:

click to enlarge images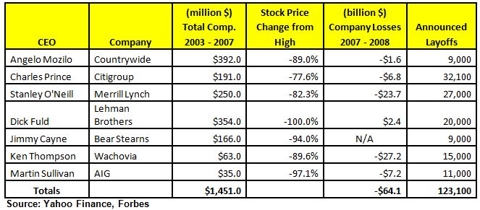 One glance at this chart and you can see why the vast majority of Americans are furious and would like to deal out physical retribution to these villains. The reason that Mr. Obama's populist pledge to increase taxes on only the top 5% of earners resonated with so many Americans is the men listed above. Angelo Mozilo was selling his company stock so fast during the summer before his company collapsed, that he had to skip multiple sessions at his tanning salon. These 7 CEOs robbed $1.4 billion of compensation from their companies, while leading those companies to losses of $64 billion and inflicting 75% to 100% losses to shareholders. At least 123,000 workers, with families & children have lost or will lose their jobs due to CEO greed, incompetence, reckless risk taking, and hubris. Watching Dick Fuld tell Congress he deserved the $354 million of compensation, after he destroyed the lives of so many Lehman Brother employees is beyond comprehension. So, I say go ahead and increase taxes on the top 5% of earners. Blame the greedy CEOs for this increase. If you happen to fall in this top 5% and run into one of these CEOs at your country club, spit in their eye and tell them thanks.

Tax Solutions

Mr. Obama needs to understand the meaning of the number above. The National Debt of the United States is $10.6 trillion. We have spent $10.6 trillion more than we have collected. This is $100,000 owed by every household in America. The annual deficit will reach $1 trillion in Mr. Obama's 1st year on the job. For some perspective - we will add to the debt above at a rate of: $2.7 billion per day; $114 million per hour; $1.9 million per minute; $32,000 per second. How any politician can consider tax cuts in this situation is beyond comprehension. The size of government must be reduced in order to make a dent in this debt. During the campaign, Mr. Obama promised a tax cut for 95% of Americans. The problem is that 40% of Americans pay no Federal income tax. This "tax cut" would just be another version of the Bush rebate checks. They do nothing to benefit the country. What we do know is that people with a better education make more money. Wouldn't it be a more worthwhile effort to try and move some of the 40% of people who pay no taxes into the 60% of taxpayers? Use some of the taxes collected from Angelo Mozilo and increase financial aid for college students.

- Advertisement -

Forget the stimulus packages, Mr. Obama. You don't have to run again until 2012. Do the tough stuff now. My preference would be scraping all 66,000 pages of the tax code. Impose a national sales tax. We consume like no nation on earth. Tax consumption and reward savings. This is a simple solution, so it doesn't have a chance. Our shallow politicians would lose the levers of their power. Now that gasoline has dropped back toward $2.00 per gallon, our strategic thinking Congressmen believe our energy problems are over. They are dead wrong. By 2013 we will no longer be supplied with the 1.7 million barrels of oil per day from Mexico, as their major oil field goes dry. Long term for a Congressman is next week. Now that the pressure is off, Mr. Obama should propose a $1.00 per gallon tax. Tax consumption, not investment. The $130 billion of annual revenue would be used to rebuild and repair our crumbling infrastructure. We could rebuild 156,000 structurally deficient bridges, replace millions of miles of ancient pipes under our streets, and overhaul the overburdened power grid, while creating millions of new jobs. Everyone would like to hurt the Tools who drive Lincoln Navigators with Save the Environment license plates.

Housing Solution

The solution to the housing crisis is detailed in the charts below. The average price of a house in California dropped 40.9% in September. Amazingly, home sales increased by 96.7%. Capitalism worked without a government bureaucrat instructing everyone what they should do. When prices fall far enough, all houses will sell.