On Saturday, September 17, 2011 U.S. Day of Rage has called for peaceable assemblies of people in New York, Los Angeles, San Francisco, and Seattle.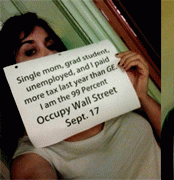 We are the 99 percent.
(
Image
by
Adbusters: Rousing Art for Occupy Wall Street
)
Details
DMCA
In New York City, the plan is to occupy Wall Street and target the root of our political and social problems: Money & Greed.
In the words of Day of Rage organizer Alexa O'Brien, "...we have no choice but to focus on the sources of the money. Both the Democratic and Republican parties set the bankster agenda because of the money."
It's finally happening. The target: money, big money. Protest in Washington all you want, the U.S. Government and our elected representative are all pawns of the real power brokers the bankers, the swindlers.
"We are taking the high ground on the public sidewalks," says O'Brien. "US Day of Rage has a plan that will overcome even the most totalitarian attempts to suppress the First Amendment."
The goal is 20,000 people on "Wall Street" and three of simple rules to keep the protest going no matter what:
1) Find space on a public sidewalk in NYC on Wall Street or as close to Wall Street as possible – anywhere Big Banking exists can be Wall Street.
2) Form an assemble group of less than 20 people and decide on a back-up location. Go to the back up location if the police break-up your group.
3) Send your block location in the subject line of an email to Day of Rage and your groups' demands, or do same with a #usdor tweet.
All of the above is legal, but that doesn't mean it will be easy. For more detailed information about how to and how not to participate in the Wall Street Occupation, or any of the other national Day of Rage protests, Click Here: Day of Rage
O'Brien also reports that U.S. Day of Rage has received credible intel that the federal government sent an email to law enforcement agents across the nation notifying them to be on high alert for September 17th operations.
O'Brien told me she was reluctant to announce the information about the national law enforcement alert for fear of scaring people, or demoralizing Americans anymore than they already are when it comes to engaging in politics.
"But unfortunately," says O'Brien, "this is the age we live in: the age of fear, not the age of hope." As for the possible agent provocateurs? "He or she is the person advocating violence, creating disorder and chaos... Do not be afraid! We Fear is destroying our once proud nation. It is eroding our civic space and retarding our creativity and our economy."
U.S. Day of Rage has articulated the following demands: 1) Money be removed from the buying of politicians. 2) That the resources of our nation no longer be used to coddle and benefit banksters and their minions. 3) That the US Government diligently reign in the parasitic destruction wreaked by Wall Street. 4) That our nation no longer be held hostage to 'too big to fail' banks. And, 5) That solutions be found that stop the Federal Reserve from stealing our future.
(Note: You can view every article as one long page if you sign up as an Advocate Member, or higher).