(Article changed on February 13, 2013 at 11:04)
By Dave Lindorff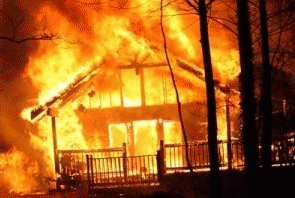 Renegade ex-LAPD cop died in this cabin fire, started by police tear gas

(

Image

by

ThisCantBeHappening

)

Details DMCA



It was clear from the outset when fired LAPD cop Chris Dorner began his campaign of terror against his former employer that the California law enforcement establishment, led by the LAPD itself, had no interest in Dorner surviving to face trial where he could continue to rat out the racist and corrupt underbelly of the one of the country's biggest police departments.

Dorner, as I wrote earlier, claimed he had been fired for speaking up during his three years on the force, through channels and to superior officers, about incidents he had witnessed of police brutality and of the rampant racism that permeates the department -- not just white on black, but black on Asian, Asian on Latino and Latino on white. His response to being sacked -- threatening to kill senior officers he blamed for this law enforcement distopia as well as some of their family members -- was criminally insane, but his complaints, made in a 6000-word post on Facebook, had and continue to have the ring of truth.
The LAPD response to his threats was to mobilize the whole 10,000-member department in a manhunt, complete with $1-million reward. Cops exchanged their black uniforms for military fatigues and armed up with semi-automatic weapons. Two Latino women delivering papers in Torrance were attacked from the rear of their pick-up by seven LAPD cops who, with no warning, peppered their truck with bullets, targeting the back of the driver's head, firing at least 70 rounds an wrecking the vehicle (amazingly, neither woman was killed, though one was hospitalized in serious condition). That attack, which looked like the kind of thing US soldiers and Marines made on vehicles in Iraq with such deadly impact, made it clear that the LAPD wanted Dorner badly, but they wanted him dead, not alive and talking.
They got their way. Trapped in a cabin in the mountain town of Big Bear northwest of Los Angeles last night, Dorner found himself surrounded by SWAT teams. If the police had wanted to capture Dorner, they could have waited him out. They had him sealed off completely. Instead, they reportedly brought in an armored vehicle, broke the windows of the cabin, tossed in teargas grenades, which are known, because of their intense heat, to ignite fires, and then watched as the building burned to the ground.
Through a bullhorn, they told Dorner to "surrender or come out." It was a curious turn of phrase and offered him a tough choice...
For the rest of this article by DAVE LINDORFF in ThisCantBeHappening!, the new independent Project Censored Award-winning online alternative newspaper, please go to: www.thiscantbehappening.net/node/1582