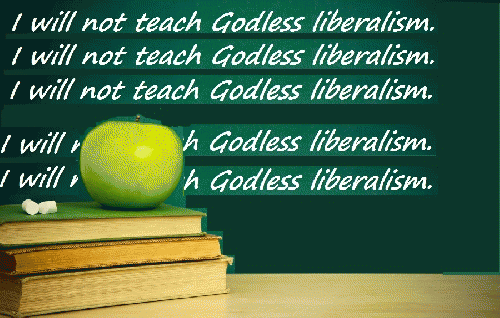 Watch out, teach! The apple may be laced with righteousness!
(
Image
by
Google Images w/caption by Rev Dan
)
Details
DMCA
In our email last week:

Dear Rev. Dan,

"This month, tens of millions of American young people will head back to government-run schools. And many will receive mediocre education.
Yes, there are many dedicated teachers who want to do the right thing, but the system works against them.
And worse, leftist political and spiritual indoctrination is the norm in most school systems."
Back to school: those words used to conjure the dread of kids...and the relief of parents. Now social conservatives (aka the Christian Right) want to further the anxiety of kids and instill fear in the hearts of mothers and fathers nationwide. It's liberalism, you see, in all its terrifying godlessness and immorality. It's Muslim Obama. It's big government. It's promotion of homosexuality. It's gun legislation. It's anti-Americanism. It's ...just about everything, everything that's so wrong with America today!
Your donation is especially important in light of unprecedented threats and opportunities:
- Radical anti-faith, anti-family indoctrination is increasing in schools.
Here comes the old "bullying-is-unacceptable-but ..." philosophy because teaching acceptance is simply ... not acceptable. It is, in fact, "pro-homosexual" and coercing kids into "denying their faith's moral teachings." This is also where social conservatives display the "it's not really our fault" ideology concerning gay teen suicides.
- Sex 'education' that excludes abstinence and encourages immorality is rampant, and it is only making problems like teen pregnancy and sexually-transmitted disease worse."
Here is where the Family Research Council fails in the "Research" department: "abstinence only" programs don't work, with some teen pregnancy (and abortion) rates climbing even higher.*
- As the education establishment puts more money and effort into social and political indoctrination, test scores for math, literacy, and history are continuing to fall. Students don't know enough math . . . are not taught other critical skills . . . and aren't taught the principles of limited government and free enterprise that will make them good citizens."
Unfortunately, "the principals of limited government" usually lead to limited education - limited to the poor in underfunded schools - and the rich, in private schools teaching the kind of "free enterprise" that results in good citizens such as "Gordon Gecko.**
" Parents and many policymakers are mounting a backlash, and your support for FRC will help it grow!
For example, the reforms led by Governor Scott Walker of Wisconsin were a blow to the ultra-liberal National Education Association (NEA)--the nation's largest public employee union whose leaders promote left-wing classroom propaganda. School choice laws are making some progress in the states, putting pressure on schools to stop the indoctrination and mediocrity or lose their funding."
As far as promotion goes, the NEA has primarily promoted science and new education techniques. The FRC undoubtedly looks askance at insisting that Creationism remains in the classrooms as strictly a religious "theory." Scott Walker's purge of Wisconsin unions has spawned a backlash that is even more grassroots than the attempts of the FRC to promote "free enterprise."
(Note: You can view every article as one long page if you sign up as an Advocate Member, or higher).