Hillary Clinton is a neoconservative whose credo is world domination. Her stay at State is a string of wars in Syria, Libya, Yemen, etc. Wrongly convinced that these wars had been won, she advocated "pivoting" American forces to Asia to bully China. It's Theodore Roosevelt's stick without the carrot. Not sure the Chinese appreciated it. Putin is a new Hitler -- an accusation which would be laughable if it did not come from one of the most powerful politicians. Let's get the record straight: Putin is a chess player carefully calculating each of his moves. Hitler was an impetuous and unpredictable leader. On the domestic front, Hillary Clinton's friends are on Wall Street not on Main Street. He who believes in her "liberal" message is in for a big surprise.
Donald Trump is a phony. He owes his fortune to banks' greed as much as his own. Plastering his "success" as he does to claim he is fit to lead the United States is a scam. There are thousands of corporate leaders more capable and better prepared than he is. He is on an ego trip, a narcissist who long passed his level of incompetence. He is a full member of the American oligarchy. His "America First policy" is nothing more than a slogan. His economic policy is unrealistic and his fiscal policy is a gift to his class in disguise. When the white middle class finds that out, if it ever does, it will be too late. His foreign policy statements are full of contradictions and imprecisions. No one knows what he will do, if elected. Having no political experience in Washington, he is likely to be manipulated by his inner circle. Who will that be? Who knows?
Voting for Hillary is voting for the policy of the last sixteen years. Voting for Donald is voting for the unknown. This is unacceptable in today's volatile world. Both candidates are dangerous and therefore disqualified for the job. There remains two outsiders: Jill Stein and Gary Johnson. The first one runs for the Green Party, the second for the Libertarian Party. Together they account for 15 percent of the votes. Neither will be selected by the Commission on Presidential Debates. Their voices won't be heard. Jill Stein might have had a chance had Bernie Sanders join forces with her. Instead, he has betrayed the cause he was fighting for by siding with Hillary Clinton. In this context, the only rational choice is to abstain. Under normal circumstances, abstaining is a fault. But these are not typical times.
Abstention is a growing phenomenon, reflecting Americans' discontent with the political elite. It has risen from a low 37 percent in John Kennedy's 1960 election to a high 51 percent in Bill Clinton's 1996 reelection. The abstention vote is higher than the total of the two outsiders. Therefore, it makes more sense to abstain than vote for either of them. The chance to be heard is greater. If abstentions were to reach 60 percent on November 8th, an American president elected with 51 percent of the votes would end up running the country with the support of 20.4 percent of the voters. The message would be clear: the country faces a major political crisis. A Continental Congress, akin to the Philadelphia Congress of 1776, would be in order.
The United States is no longer a democracy. Main stream media are controlled by six corporations. Voting machines leave no paper trail and blacks are discouraged from registering in several states. In 2006, Justice Sandra Day O'Connor said the US is in danger of edging towards dictatorship. In 2013, Jimmy Carter declared: "America has no functioning democracy at this moment". This year, colonel Lawrence Wilkerson, Colin Powell's former chief of staff while at State, said the Americans must unite against the Establishment, even at the cost of a "Revolution".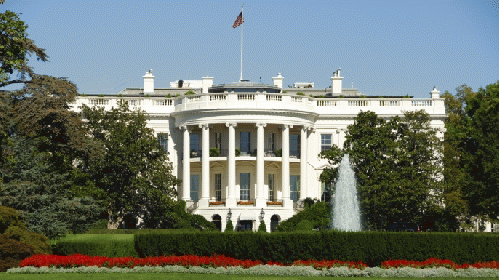 The White House
(
Image
by
The White House
)
Details
DMCA