American Children Pledge Allegiance. 1942.

(

Image

by

Collage from public domain images, photo by Dorothea Lange

)

Details DMCA


SEPT. 8, 2012:


120 years ago today, on Sept. 8, 1892, The Pledge of Allegiance was first published in Youth's Companion, a family magazine that has been called, "the Reader's Digest of its day." The pledge was writtien by a Socialist Christian minister, Francis Bellamy, and James Upham, a Mason, for schoolchildren to recite on on Oct. 12 of that year, the quadricentennial of Columbus' arrival.


Earlier, the magazine had mounted a campaign to sell American flags to public schools as a premium to solicit subscriptions. They sold American flags to approximately 26,000 schools, but by 1892, sales were getting sluggish.
Vintage postcard
(
Image
by
Public domain image
)
Details
DMCA

Bellamy and Upham worked in the premium department, developing ideas to enhance sales. They were inspired by the 400th anniversary of the discovery of the New World, which would be celebrated by the World's Columbian Exposition in Chicago. Upham came up with a clever idea that would center around his magazine: a national Columbian Public School Celebration to be held in schools all over America, with a flag raising ceremony and a special flag salute.
World's Columbian Exposition, Court and Grand Basin. Chicago, 1893.
(
Image
by
Public Domain
, Author: User:EurekaLott)
Details
Source
DMCA

Bellamy, with Upham's support, and likely his assistance, developed the Pledge of Allegiance as an integral part of this nationwide celebration. The words were published in the September issue of the magazine, in enough time for schools to order their flags so that they could be included in the celebration.

Bellamy's pledge, as published in the magazine, originally read:

"I pledge allegiance to my Flag and (to) the Republic for which it stands, one nation, indivisible, with liberty and justice for all."

(Within the month the word "to" was added.)

Originally, Bellamy's pledge had included the phrase "one nation, indivisible, with equality, liberty, and justice for all." But several state school superintendents objected to the word "equality," since they were afraid it might be "misconstrued" to seem applicable to women and people of color. So Bellamy removed it.

It's been recorded that 12 million American school children recited the new Pledge, to commemorate the 400-year anniversary of Columbus' voyage. I was unable to locate data on how many flag sales this initiated.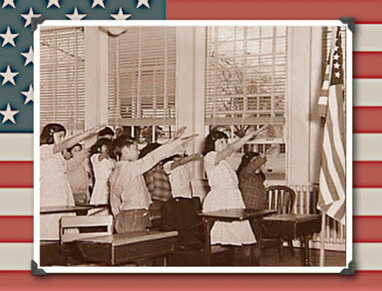 Schoolchildren pledging using the Bellamy Salute, 1941.
(
Image
by
Public domain image
)
Details
DMCA

Bellamy devised a salute to accompany his pledge. The Nazis developed an eerily similar salute in the 1930s, and there is some speculation that it was influenced by the Bellamy Salute. Due to the resemblence, the Bellamy Salute was abandoned during WW2, and replaced by the familiar hand-over-heart.
Children saluting (circa 1940). Which are German and which are American?
(
Image
by
Collage of two public domain images
)
Details
DMCA

In The Pledge of Allegiance A Revised History and Analysis, John W. Baer notes that "In 1923 and 1924 the National Flag Conference, under the 'leadership of the American Legion and the Daughters of the American Revolution, changed the Pledge's words, 'my Flag,' to 'the Flag of the United States of America.' Bellamy disliked this change, but his protest was ignored..."
American children reciting the pledge of allegiance, 1942.
(
Image
by
Public domain image by Dorothea Lange (detail)
, Author: See Source)
Details
Source
DMCA
Congress did not officially recognize the Pledge for 50 years, until 1942.
In 1954, after a campaign by the conservative, all male, Catholic, Knights of Columbus, Congress, with Eisenhower's participation, added the words,
"under God."
Bellamy died in 1931, but his grand daughter was resistant to this change, saying that her grandfather would have been opposed to it.

Recently, groups have lobbied to go back to the original version. Restore the Pledge says "The Pledge of Allegiance is a national symbol, and as such all Americans should be able to freely participate in reciting it, especially students in public schools. However, the words "under God" are clearly a promotion of a specific religious belief. These words ... are in violation of the First Amendment."

Other groups have developed new and different versions. One that I often shared with my daughter as she was growing up, was developed by a musical group, the Lester Family. Like the Declaration of Independence, it references a divine creator without narrowing it down to one that only fits into a particular religion:
New pledge by Lester Family Music
(
Image
by
Lester Family Music
)
Details
DMCA
New pledge by Lester Family Music
(
Image
by
Lester Family Music
)
Details
DMCA
(Of interest: a recent article also about the flag,
Walk Softly and Carry a Big Flag: MD Follows His Heart on 900-Mile Trek
, by the same author, is at: click here
)
RESOURCES
Lester Family Music (
http://www.lesterfamilymusic.com
) offer prints of the Pledge of Allegiance shown in this article as an 11"x17" poster, as well as a 16" x 22" limited edition, signed and numbered serigraph. (And they offer lots of great music, too!) Link to the poster:
http://www.lesterfamilymusic.com/natural-life#pledge
Brief History of the Pledge of Allegiance.
click here
Accessed Sept 5, 2012.