A year or so ago, I read about a study which showed that Germans' opinions of themselves were more like the opinions of them held by foreigners living in their country than foreigners' opinions (of the natives) living in any other country in the world. And I thought this was exceptionally admirable. Not only because the Germans are guilty of committing the most heinous attempt in recorded history to eradicate a great and geographically dispersed people, during World War II, but also because so many other modern countries have polities in total denial of the horriblenesses in their pasts and, in many cases, their presents as well.



At the time I read about the study, I had already become fascinated with modern and contemporary German art, mainly as a living continuation of surrealism, transposed into a realistic mode which could illustrate Franz Kafka's writings very well. And when I found Almut Heise's works at Artnet's Artist Works Catalogs in 2009, I didn't hesitate to present several to OEN's readers, here; the title of the piece was 'Surrealist Portraiture: Five Paintings by Almut Heise.'




All the following images are at Artnet's AWC and presented copyright and courtesy of that website, and of the artist, Almut Heise. See here.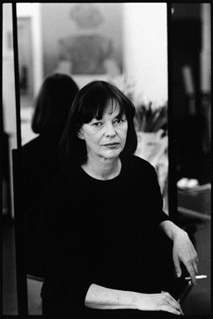 The Artist, Almut Heise,

(

Image

by Copyright and Courtesy of Almut Heise and Artnet's Artist works Catalogs)

Details DMCA








Enjoy: