Three Years and Counting -- Still FUBAR and Deteriorating
By William Boardman -- Reader Supported News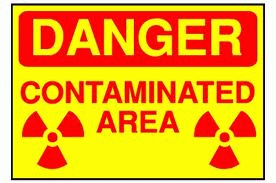 UNIVERSAL WARNING SIGN
(
Image
by
islandvisuals.com
)
Details
DMCA
Fallout from Fukushima? A re-make of Godzilla! That's the good news
There's not much new to say about Fukushima. It remains an out of control disaster with as yet unmeasurable dimensions that continue to expand. Or perhaps it's more accurate to say that everything new about Fukushima is just the same-old same-old getting worse at an uneven and unpredictable rate. Either way, it's not good and, while it's worse in degree, it's not yet apparently worse in kind, so that's one reason you don't hear that much about it in the news these days.
Whatever the full truth is about Fukushima, it's probably unknowable at present. And it might remain unknowable even if there was total transparency, even if there were no corporate, institutional, governmental, and other layers of secrecy protecting such enemies of the common good as profit, capital investment, and weapons development.
Secrecy and false reassurance have always been an integral part of the nuclear industry in all its manifestations. In January 2014, Tokyo Shimbun reported yet another example of nuclear opposition to honesty: the Fukushima prefecture government and the government-run Fukushima Medical University signed a secrecy agreement with the International Atomic Energy Agency (IAEA), a United Nations agency that "is committed to applying the highest ethical standards in carrying out its mandate," or so it claims. The IAEA's press release about the agreement is bland and inoffensive. According to Shimbun, each party to the agreement has the right to designate any information as confidential, specifically mentioning data about thyroid cancer in children or other facts that might "stir up anxiety of residents."
Here are some other elements of SNAFUkushima that might stir up anxieties of residents and non-residents alike:
RADIOACTIVE WATER is beyond control and unmeasured
Next Page 1 | 2 | 3 | 4 | 5 | 6
(Note: You can view every article as one long page if you sign up as an Advocate Member, or higher).