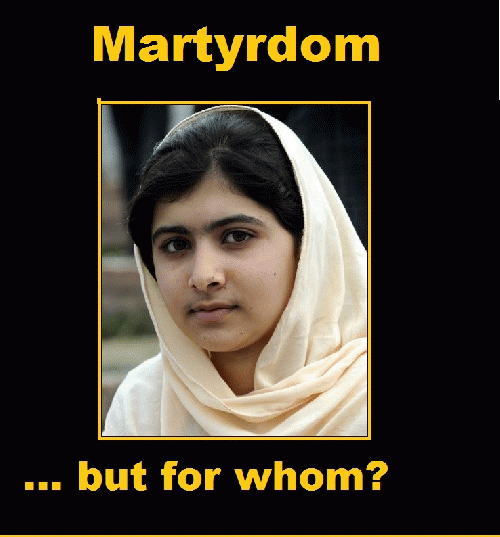 Martyrdom For Who?
(
Image
by
Google Images w/caption by Rev Dan
)
Details
DMCA
In the second Presidential Debate, a pointed question about women in the workplace and corporate America's "glass ceiling" was asked of Mitt Romney, but while President Obama addressed the issue by acknowledging the presence of a glass ceiling, Romney sidestepped the issue by saying he had hired more women to staff his cabinet than any other state government.
Oh, and he mentioned flex time.
The issue was about women's equality in the work place, not the amount of jobs offered to qualified women, nor about allowing women to juggle work and home. There's a big difference.
Romney's answer typified his party's treatment of the question of equal rights for women: let's not talk about it. Instead, "let's give them "flex time" to enable them to deal with the kids at home (who, by the way, they should be dealing with first anyway, say the likes of Phyllis Schlafly).
Malala
Four thousand miles away, Malala Yousufzai is lying in a hospital in London fighting for her life after having fought for Muslim women's rights:
"The Taliban's attempted assassination last week of Malala Yousufzai, 14, has sparked outrage inside Pakistan and around the world, transforming the young blogger into an international symbol of defiance against the radical Islamist group that continues to wield influence in parts of Pakistan."
This tragedy was probably followed by Pam Geller whooping and hollering with glee, painting all Muslims as "savages."*
Islam's treatment of women is a favorite theme of everyone who shrieks when they see a burka: Islamophobia and fears of "creeping Sharia Law" are fed to Americans on a regular basis by featuring women's oppression, but to what extent is Islamophobia used to cover up America's failings in terms of equal rights for women? Who will Malala become a martyr for? Women's rights advocates or Islamophobes?
Romney's Secret War
In a devastating expose, Horror Stories: Mitt Romney's Shameful Record with Mormon Women , journalist Geoffrey Dunn (The Lies of Sarah Palin) has focused on Mitt Romney's treatment of Mormon women and what he thinks of women's roles:
"In another incident Romney threatened Peggy Hayes, a divorced single woman, with excommunication when she resisted his orders to give her infant son up for adoption to an LDS adoption agency.
'He told me he was a representative of the church and by refusing, I was failing to comply with the church's wishes and I could be excommunicated.'
Hayes took Romney's admonition as a threat. She felt attacked, even intimidated. Moreover, it was insulting: "He was saying that because Dane [her son] didn't have a Mormon father in the home and because of the circumstances of his birth--being born to a single mother--then the expectation of the church was that I give him up for adoption to the church agency so he could be raised by a Mormon couple in good standing."
The Contraception Debate
Perhaps the only social issue in the debate was one which Romney glossed over: contraception. Obama handily made it into an economic issue, but also said that Romney's stance was "not the kind of advocacy women need." The mention of Planned Parenthood and contraception in the debate will surely create an uproar in misogynist circles: the issue touches on who owns a woman's womb, and anti-abortion foes like Randall Terry will lead the call for President Obama's head on a platter come Nov. 6.
(Note: You can view every article as one long page if you sign up as an Advocate Member, or higher).