We are all spiritual beings having a human experience. We all came down from above. There was some sight years ago in cyberspace called star seeds which stated, "eons ago we swore to protect a planet in peril." Think that sight got trashed in where ever sights go that don't go viral as that site should have. It all makes me think of a line from an Arlo Guthrie tune "Stairs" where Arlo sings, "If I thought that I knew that the way to get across to you was this high and winding stair, I'd be there. Back before the world began, back before that too. You took me in your confidence told me I was you. Just seems kind of funny now as I walk upon the shore that can't help but laugh." (Wish could play a video of that song but he ain't put one out yet, and dare not post one, for fear of losing You Tube over some copy right bs stuff.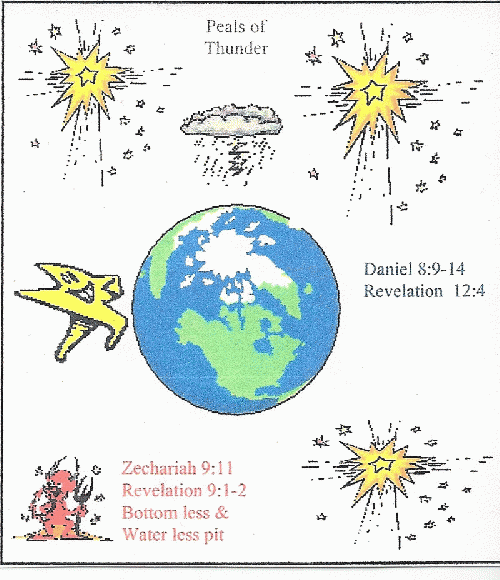 Rocking Down

(

Image

by

Michael Dewey

)

Details DMCA



Oh, I watch all the politics here on OEN and throughout cyberspace. Many good meaning people I say, but will be spinning wheels going nowhere until the vision kept secret in Daniel 8:26 about stars and hosts being dragged down to earth and trampled as human beings in Daniel 8:9-14. We all came down from above. Some were even let out of hell...where a waterless and bottomless pit were opened in Zechariah 9:11 and Revelations 9:1-2. When thinking about those last thoughts, am thinking of John Lennon singing Imagine there is no heaven or hell.



But will add that there is no heaven until there is heaven on earth. Spirits just keep being born again, up and down Jacob's Dream of angels coming up and down a ladder, until on this melting pot gets it right and ends wars and poverty.

Let me tell you people that Steve Miller found in Space Cowboy, the same rocking down angels awakening I had 23 long years ago. We all came down from above. Can we ever understand that, and tell the "Church" to stfu about all this heaven and hell legalistic bs they will feed us until hell freezes over? I for one am tire of it all. End these wars and feed the world or as Steve Miller sings, "You power trip dreamers have some heavy dues to pay." Mater of fact they will have no choice but to pay them heavy dues.

What Happens When This Ends Up a Key Truth of Our Times?

Lots of people talk about 2rd coming stuff, and I am here to tell you that all that stuff is about is the fulfillment of the peace, love and civil rights dreams of the 60's. The dirty hippies were right.

We are living on a finite planet racing towards its own destruction. As said in Revelations 11 after those 2 prophets born as human beings get killed, the time will come to destroy those who are destroying the world, that being the 2rd woe, with the 3rd woe is in a hard to find place in Revelations 12, where a child born to this generation comes, and it says "woe to the earth and sea for the devil has come down to you knowing he has but a short time."

Peace to you all and may we soon start to live as a brotherhood of mankind learning to share all of the world. Damn, if 50 years from now the peace love and civil rights dreams of the 60's are not reality, all who knew what the dreams were about will be dead.

Some one up there is talking to this folk slinger in deep prayer, penciled drawn by his wife Jackie when she was alive. I think it was John Lennon singing down Imagine to him with Arlo finding his own words in his Someday album back in the 80's.


Arlo Guthrie Pencil drawn by his wife Jackie of a man deep in prayer.
(
Image
by
Arlo Guthrie
)
Details
DMCA
(Article changed on February 13, 2017 at 10:25)