Rick Warren - The New National Preacher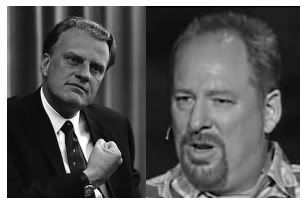 Rev. Billy Graham and replacement, Rev. Rick Warren
Images: left, right
He's "Davos People"
Rick Warren's selection to open the upcoming inauguration created a well justified scandal given his appallingly bigoted views on gay marriage. Equating that institution with both incest and pedophilia shows a total lack of judgment and compassion. This should make him unacceptable for civilized company, not to mention the opening act of the 44th Presidential Inauguration.
Taking a broader look at Warren and his rapid rise to prominence, however, the choice seems logical. Warren has been cultivated as the new Billy Graham, the right wing preacher who ratified the actions of the leaders that he blesses as God's representative. Since the Eisenhower presidency, Graham legitimized every war and military incursion by "visiting" the White House, praying for the current president, and conferring "Godliness" on them. Graham would then go public after the prayer event and say kind things about the president, every president.
Billy Graham even went along with President Nixon's prolonged anti Jewish remarks during a recorded 1972 conversation by saying, "This stranglehold (of Jews) has got to be broken or the country's going down the drain." Chicago Tribune, Feb. 28, 2002
For years now, we've been absent the once familiar figure of spiritual bag man. Graham has taken his leave of public life and his son Franklin is too bitter for broad public consumption.
Ugly Talk
On at least four issues, Warren has let loose with some very unspiritual views. He referred to the removal of Terri Shiavo's feeding tube as "an atrocity worse than Nazism" even thought the woman was in a "persistent vegetative state" with no hope of recovery..
But that wasn't enough for America's preacher to be. Interviewed by Chris Matthews on "Hardball," Warren couldn't resist leveling a baseless personal attack on Terri Shiavo's husband Michael for removing his wife's life support based on clear medical evidence of an absence of life functions:
- Advertisement -
Matthews: "So why is he doing this, do you think?
Warren: "I have no idea. Well, I don't know. There's 1,000 reasons could you speculate. What if she came back out of the-out of this state and had something to say that he didn't want said?" MSNBC.Com, Mar. 23, 2005
He didn't "know" but Warren couldn't resist attacking Shiavo's husband who was suffering at the time and faced with an awful choice. The choice between silence, compassion, and attack seemed easily resolved for Rev. Warren.