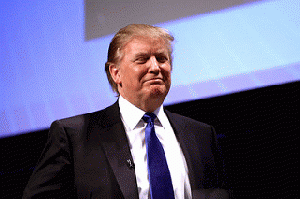 Donald Trump
(
Image
by
Gage Skidmore
)
Details
DMCA
Duluth, Minnesota (OpEdNews) March 5, 2016: in the fall of 1964, I first read selections in Walter J. Ong's book The Barbarian Within: And Other Fugitive Essays and Studies (New York: Macmillan, 1962).
The title essay is "The Barbarian Within: Outsiders Inside Society Today" (pages 260-285). In it Ong works with the contrast barbarian/Greek. Back and forth he goes comparing and contrast the barbarian position versus the Greek position. For Ong, the barbarian position represents the outsiders, the out-group, and the Greek position represents the insiders, the in-group.
The ancient Jews gave us another way to conceptualize in-group versus out: Jews versus gentiles. The ancient Christians gave us yet another way to conceptual in-group versus out-group: Christians versus pagans.
But Ong chose to work with the barbarian versus Greek contrast. On the one hand, we Americans can look back on the experiment in participatory democracy in Athens as limited precursor of our American experiment in representative democracy. On the other hand, most Americans in 1962 were not actively using the Greek/barbarian contrast, but certain Americans were still using the Jew/gentile contrast and the Christian/pagan contrast. In addition, the Greek/barbarian contrast provided more vivid terms for Ong to use than would the terms in-group versus out-group.
For a scholarly study of the Greek/barbarian contrast, see Edith Hall's book Inventing the Barbarian: Greek Self-Definition Through Tragedy (Oxford University Press, 1989).
Because we Americans are not Greeks, we must invent, and regularly re-invent, our collective self-definition as Americans by revisiting our American ideals and renewing them. However, unlike the ancient Greek who engaged in their experiment with participatory democracy in Athens, we Americans have not invented a conceptual construct of the barbarian onto which we could project "shadow" material that we did not want to consider to be part of our self-definition as Americans. As a result, our self-definition as Americans has tended to be an idealization.
Furthermore, it is possible that Ong, as a Roman Catholic priest with a Ph.D. in English from Harvard University in 1955, may have seen himself as a member of an out-group: American Catholics. After all, in 1962, white Anglo-Saxon Protestants (WASPs), or lapsed Protestants, dominated the prestige culture in American culture. (But on his father's side of the family, Ong's relatives were WASPs.)
However, in the 1960 presidential election, Harvard-educated Senator John F. Kennedy was narrowly elected the first Roman Catholic Irish American president of the United States. Symbolically, his election seemed to show an out-group in society rising in the prestige culture in American culture. Tragically, President Kennedy was assassinated on November 22, 1963.
In the deeply probing book JFK and the Unspeakable: Why He Died and Why It Matters (Orbis Books, 2008), James W. Douglass explores JFK's religious orientation.
Even before JFK's assassination, the black civil rights movement represented another out-group in American society struggling to make headway against Jim Crow laws and customs. Today Jim Crow laws and customs are history. Good riddance to them.
Today the prestige culture in American culture appears to be a wee bit more diversified than it was in 1960 -- less WASP-ish.
But the breakdown of the centuries-old dominance of WASPs, or lapsed Protestants, in the prestige culture that has enabled a wee bit more diversity to emerge in the prestige culture has also a new mix of out-groups, including now certain white Protestants. Thus since 1960, a new mix of out-groups has emerged along with a new mix of in-groups.
Not surprisingly, both the emergent in-groups and the emergent out-groups have formed political alliances in our two-party system. The emergent in-groups have formed alliances in the Democratic Party, and the emergent out-groups have formed alliances in the Republican Party. Naturally political alliances require a common cause to unite behind and promote. Oftentimes, political alliances may also require a common enemy to struggle against.
Now, in World War II, the United States formed an alliance with the Soviet Union to defeat Germany, Italy, and Japan. However, after the successful end of World War II, the United States pivoted into the Cold War with the Soviet Union. This example shows that political alliances may be temporary.
Today the Republican Party struggles against real and imagined enemies roughly imagined to be represented by the Democratic Party, and vice versa.
(Note: You can view every article as one long page if you sign up as an Advocate Member, or higher).