There are cowards, and there are heroes, like whistleblowers, as I'll talk about later in this article. But this article started out because I began thinking about how so many people are not even able to be cowards.
To be a coward, one must see something to be afraid of.

To be a coward one must first know there is a risk, THEN act in a cowardly way, failing to rise to the challenge or opportunity.
We live in a time when people do not have the opportunity to become cowards.
They idle through lives of distraction, entertainment, consumption and soul-deadening routine protected from the need to find courage, protected from the risk of manifesting cowardice.
That doesn't mean their souls are not shriveling up as I imagine a coward's soul atrophies from lack of use.
There are millions of people who lead what Thoreau called quiet lives of desperation. But this way of living has become enhanced with appurtenances and niceties, embellishments and velvet linings that make it easier to be numb and lifeless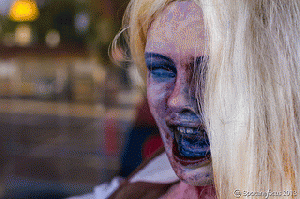 (

Image

by

SpokaneFocus

)

Details DMCA


by SpokaneFocus



We live in times in which zombies have become a major genre in film and books. Those zombies are the walking dead. How different from the fictional zombies are the millions, perhaps billions of people who simply go through their days accepting the circumscribed, diminished, polluted, synthetic empty lives that the military industrial big agra, big pharma big medicine media complex have pegged them into, almost from plasticized dumbed down toy laden cradle to comatose intensive care unit just before the grave?

it takes just a few brave whistle blowers to jostle the security, the faith and belief in the system-- a synthesized, manufactured faith that is both myopic and hypnotic. Those people are brutally punished by the system. The shameless media sluts and whores (some are paid, some not) will attack them. They will question their sanity, attack their character, suggest they are traitors or narcissists or enemies of the state.

That last part may be true. They MAY be enemies of the state-- not the nation, mind you, but the state of the nation under corporatists who have been highly successful in shutting down the minds, the souls and hearts of the citizenry.

Not all people are walking zombies, nor awakened activists. There are an estimated one million psychopaths and eight million sociopaths in the USA. Add another five to ten million more cluster B personality disorders-- narcissists, borderlines, Anti-Social Personalities-- maybe twenty million, and you have foxes in a henhouse. People like Thom Hartmann have suggested that to be the head of a fortune 1000 corporation, one must be a sociopath. A researcher on corporate psychopaths puts the numbers between three and 12 percent of managers.

There might be a million, probably less, awake and energized people in the USA, if you count people on the left and right. There might be a few million more who are awake but not energized.

But that leaves hundreds of millions of mindless consumer automatons to be exploited by the sociopaths and psychopaths who live to dominate and manipulate-- to win-- over others. Those people don't have fear because they have defective emotional processing. They are less than fully human, or maybe better said, their humanity is not intact. It is broken. But so are the hundreds of millions of Americans who work in mindless, meaningless jobs, who leave the jobs to go home to indulge in nightly stupors-- drug, alcohol or media-induced.

If you're reading this, you might be one of a small number of people who are awake. Even if you disagree with my politics, hopefully, you are at least looking, thinking, perhaps acting.

If you are, there are a lot of reasons to be afraid. If you are afraid, that's a good thing, a gift, really. That means you are actually out of the matrix, seeing more of reality. Anyone who sees the real world today should either be scared or among the one tenth of the one percent who are pulling the strings, exploiting the" what should we call all these hundreds of millions who are not even eligible to be considered cowards? Sleepers? Zombies? Consumerized walking dead, in medianotic trances?

(Note: You can view every article as one long page if you sign up as an Advocate Member, or higher).