Reprinted from www.huffingtonpost.com
1. Wrack Lariat, by Heller Levinson (Black Widow Press).
From the preeminent publisher of classical and contemporary surrealist writing comes a new collection by one of the most daring poets operating today. Congratulations are in order for avant-garde publishers Joe Phillips and Susan Wood--also the owners of enchanting stores offering rare and antiquarian books, including Commonwealth Books in Boston, A. Parker's Books in Sarasota, Florida, and Crescent City Books in New Orleans--on reaching 60 books on their list and counting, extending their project to ever-new territory. Levinson's Hinge Theory is a radical way of refracting the material of poetry into a tempting yet fatal substance: "Wrack Lariat further emboldens Hinge pioneering by launching four new modules and offering Fusionistic Intercoursing with visual artists past and present [Van Gogh, Cezanne, Picasso, and others]. These Intercourses further cement the Robustness that is Hinge, the sheer 'Hygiene' of the Charged Magnetically Explorative."
Consider this from "Regard":
The regard is the look strapped with the interrogative.
The look propelled by a relentless gaze-into.
The gaze that calls forth. That lariats the subject.
[Are we initializing raw data?]
[Are we tying the 'beast' of appearance to a hitching post.
Subordination for inspection?]
Going back to his earlier books from stone this running, Smelling Mary, and Toxicity: Poems of the Coconut Vulva feels essential.
Heller Levinson reads at Poets House, NYC
2. Empire of Self: A Life of Gore Vidal, by Jay Parini(Doubleday)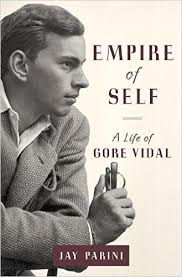 I have been full of anticipation for this essential biography of one of the most colorful men of letters of the second half of the twentieth century: Vidal lived the kind of explosive, interconnected, indispensable literary life--without which the shape of American letters would have been different--that feels altogether extinct now. Parini, Vidal's close friend, has constructed this important book from thirty years of conversation and intimate knowledge of his subject. Vidal was one of my own deepest influences at the start of my career, especially with his acerbic, hard-hitting essays. He was truly a radical, not a namby-pamby by any means, and I hope to learn more about how his life illuminated his letters and vice versa from this biography.
Gore Vidal talks to Jay Parini at the 2009 Key West Literary Seminar
During dinner, Gore drinks a bottle of wine by himself [in the company of Norman Mailer and Susan Sontag], and Mailer is annoyed, ordering a third bottle for the rest of us. He is paying the bill, and doesn't like doing so. He orders light: a salad with chicken. The rest of us go for larger items. As ever, Gore orders a lot but eats very little, preferring to absorb his calories from booze....
A pained expression crosses Gore's face [when Sontag asks him about her novel The Volcano Lover] as he reaches across the table and takes Sontag's hands into his own, then says, "I've read it, Susan. But you must make a promise to me. That you will never, ever try your hand again at fiction."
3. Bright Scythe: Selected Poems, by Tomas Transtr├â Âmer, translated by Patty Crane (Sarabande)
(Note: You can view every article as one long page if you sign up as an Advocate Member, or higher).