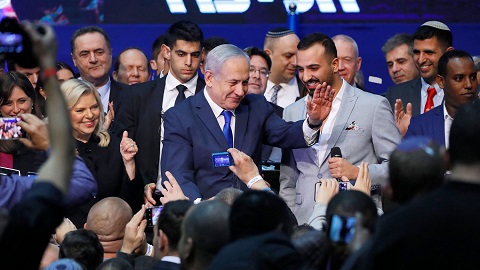 The Israeli prime minister has worn down voters by refusing to go while his rival Benny Gantz has no visible path to power

(

Image

by theTrumpet.com)

Details DMCA

It may have taken him a year and three elections to achieve it, but on Tuesday, Benjamin Netanyahu started to look like the Great Houdini of Israeli politics escape artist extraordinaire.

With almost all of the ballots counted, Netanyahu's bloc of settler and extreme religious parties was set to win 58 seats in the 120-member parliament three shy of an absolute majority.

But more importantly, his Likud party is expected to secure three more seats than his chief rival, Benny Gantz, a former army general who leads the secular right-wing Blue and White party.

Netanyahu managed his win even though the attorney general recently indicted him on a raft of corruption charges. His trial is due to start in two weeks.

The rationale behind Blue and White's creation was to oppose Netanyahu, arguing that his increasingly authoritarian and corrupt government is a threat to Israel's democratic institutions and the rule of law. Blue and White has lost that argument at the ballot box.

Netanyahu isn't quite out of the woods yet, but Gantz has no path to power himself, given his racist refusal to countenance support from the Joint List, representing Israel's large minority of Palestinian citizens.

As one Likud official noted: "It's either Netanyahu's government or another election."

Gantz on the backfoot

The two party leaders have been locked in a political impasse for the past year, tying for votes and neither able to form a government alone. But this election result puts Netanyahu firmly on the offensive and Gantz on the backfoot.

Netanyahu will use his success as a way, over the coming weeks of negotiations, either to browbeat Gantz into supporting him in a unity government, or to chip away at Gantz's more hawkish legislators, hoping to prise off some as defectors.

As the results firmed up, it was revealed that Likud officials had already started blackmailing one of Gantz's wavering legislators, Omer Yankelevich, threatening to release embarrassing private recordings.

Another possibility is that Netanyahu may manage to lure back into his fold his secular far-right nemesis, Yisrael Beiteinu leader Avigdor Lieberman, who has seven seats. Lieberman abandoned Netanyahu, and triggered the round of elections, in a feud over the rabbinical parties that are a bedrock of the ultra-nationalist bloc. But Lieberman has also promised not to allow a fourth election.

Netanyahu may even try to tempt into his bloc Orly Levy-Abekasis, the only legislator for the centre-right Gesher party, which joined an electoral pact with the Labor party.

'Unassailable' mandate

This is what Netanyahu appeared to mean when he called for "reconciliation" in his victory speech.

(Note: You can view every article as one long page if you sign up as an Advocate Member, or higher).