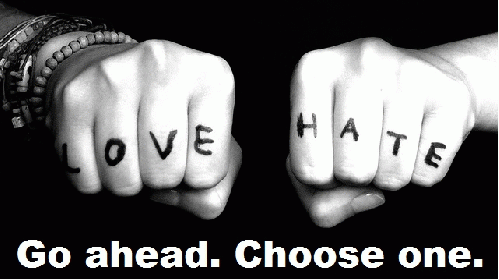 We do have choice
(
Image
by
Rev. Dan Vojir
)
Details
DMCA
Note: Some parts of this article are NSFW
The conflagration in Ferguson, Missouri (perhaps rightfully) overshadowed other incidents of racism and bigotry in the country last week. Michael Brown's death and the subsequent reactions by Ferguson and law enforcement have been news fodder for every media: everyone seems to taking a polarizing stance, with very few pundits in the media taking a moderate tone. For example, Rev. Jesse Lee Peterson* of the Brotherhood Organization of a New Destiny called Brown a "thug" just like Trayvon Martin.
Rev. Peterson is African-American.
"I've said from day one that Michael Brown is a thug," Peterson declared, using as evidence "the fact that he was running from the cops, period, because good folks do not run from police officers, they follow their instructions."
Rev. Peterson has obviously never lived in an inner city.
Of course, we all know that Michael Brown was really a "menacing" giant hopped up on marijuana because Bryan Fischer says. so.
The Callousness Of It All
But there were other incidents of racism and bigotry, maybe not as notorious as Ferguson, but just as damning ... and callous.
(Note: You can view every article as one long page if you sign up as an Advocate Member, or higher).