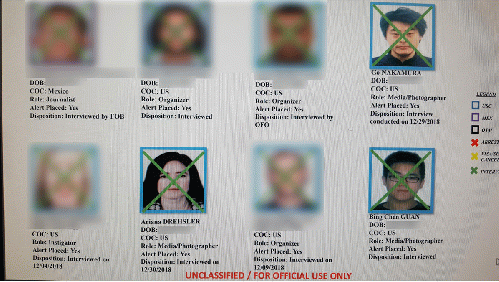 Journalists et al
(
Image
by
NBC San Diego
)
Details
DMCA
Asylum seekers are not the only ones being detained at the U.S.-Mexico Southern border.
Customs are Border Patrol (CBP) officers have now trained their attention on journalists, lawyers, and activists.
According to documents NBC KNSD-TV obtained, CBP has a list of 59 individuals, mostly Americans, intended to be stopped and questioned at San Diego-area checkpoints.
Every individual on the "San Diego Sector Foreign Operations Branch: Migrant Caravan FY-2019 Suspected Organizers, Coordinators, Instigators, and Media" list is being detained for meeting with or aiding asylum seekers from the Honduran caravan on the Mexican side of the border.
At least 21 have been arrested.
Image credit: KNSD

Citing an ongoing "national-security" investigation, CBP reports 10 journalists--seven of whom are American citizens--a U.S.-based attorney, and others dubbed organizers and "instigators," of whom 31 are Americans, were present during a violent incident at the San Ysidro port of entry border with Tijuana on November 25, which started when some asylum seekers attempted to rush the border checkpoint or climb over the barrier after being made to wait a long time for processing.

CPB responded with tear gas, which Donald Trump later defended as a "minor" form, "very safe."

Esha Bandhari, staff attorney with the American Civil Liberties Union (ACLU)'s Speech, Privacy and Technology Project, said in a statement:

"This is an outrageous violation of the First Amendment. The government cannot use the pretext of the border to target activists critical of its policies, lawyers providing legal representation, or journalists simply doing their jobs."

According to the report, CBP demands access to journalists' phones without warrants, in flagrant violation of the Constitution's fourth amendment.

One detainee, attorney Nicole Ramos, refugee director for Al Otro Lado, a law center for migrants in Tijuana, Mexico, learned CBP had on her a dossier of information that included personal details like her mother's name, social media pictures, the car she drives, and her work and travel history.

Ramos explained:

"The document... appears to prove what we have assumed for some time, which is that we are on a law enforcement list designed to retaliate against human rights defenders who work with asylum-seekers and who are critical of CBP practices that violate the rights of asylum seekers."

Other immigration lawyers who frequently travel to northern Mexico to assist asylum seekers state CPB's methods are deterring potential future human-rights volunteers.

One attorney, speaking upon condition of anonymity, said:

(Note: You can view every article as one long page if you sign up as an Advocate Member, or higher).