Reprinted from Middle East Eye
Palestinian families warned of subterfuge designed to pressure them into signing over to Israel their rights to 1948 property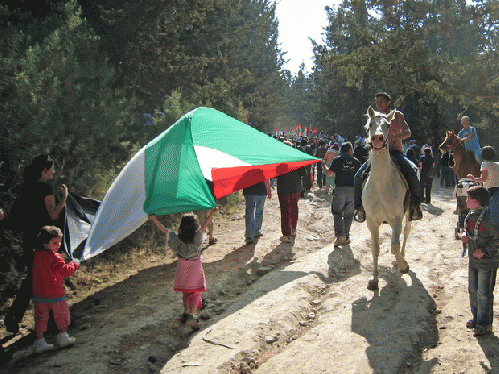 A march near the destroyed Palestinian village of Saffuriya by internal refugees marking the anniversary of the Nakba
(
Image
by
(MEE/Jonathan Cook)
)
Details
DMCA
ACRE, Israel -- Palestinian leaders in Israel have warned that they suspect the Israeli government is behind recent efforts to trick the families of refugees from the 1948 war into signing away the rights to their lands.
The alert has been issued to an estimated 300,000 Palestinian citizens of Israel descended from refugees who were forced out of their villages during the 1948 war but remained inside the new Israeli state's borders.
Palestinians refer to the dispossession of their homeland as the Nakba -- the word for "catastrophe" in Arabic.
Experts say that Israel has been working to pressure refugees into selling the title to their lands for decades as a way to undermine a Palestinian right of return, one of the key demands in any peace agreement.
"Israel has a strong interest in reducing the number of refugees with a claim on these lands so that in the event of an agreement the issue of a Palestinian right of return is weakened," said Hillel Cohen, a researcher on the Palestinian refugee issue at Hebrew University in Jerusalem.
"Israel hopes to be able to say to the international community, 'But the refugees sold their land -- where can they return to?'"
Khaled Suleiman, aged 64 and from the Israeli coastal city of Acre, told Middle East Eye his family was among those approached by lawyers trying to persuade them to sell.
Nearly 800,000 Palestinians like Suleiman's parents became refugees in 1948 and were stripped by Israel of their rights to any property they could not carry with them, under legislation from 1950 known as the Absentee Property Law.
Barred from villages
While most Palestinians were forced outside the borders of the newly formed Israeli state, Suleiman's family were among the 30,000 Palestinian refugees who managed to stay close to their former homes.
They eventually received citizenship and became part of Israel's large Palestinian minority, numbering today 1.6 million, or a fifth of the population.
Nonetheless, Israel continues to bar the Suleiman family from returning to their former village, Alma, north of the Galilee town of Safed. The homes there were destroyed decades ago by Israel, along with more than 500 other Palestinian communities.
Today the family's 17 hectares are controlled by an exclusively Jewish agricultural community of the same name as their razed village.
Suleiman said he was shocked to discover that a lawyer -- from within the Palestinian minority -- had approached his nephew trying to pressure him into selling to the government the family's lands.
The lawyer led his nephew to believe that he had one last chance to win compensation and that the deadline would expire at the end of next month.
(Note: You can view every article as one long page if you sign up as an Advocate Member, or higher).