Cross-posted from Paul Craig Roberts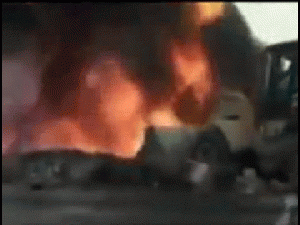 The Moral Failure Of The West
Readers are asking for my take on the Israel-Gaza situation, and, believe it or not, Oxford University's famous debating society, the Oxford Union, invited me to debate the issue.
I replied to the Oxford Union that I was unprepared to take responsibility for the Palestinians without undergoing the extensive preparation that an Oxford Union debate deserves and requires. Unless things have changed since my time at Oxford, one prevails in a Union debate by anticipating every argument of one's opponent and smashing the arguments with humor and wit. Facts seldom, if ever, carry the day, and sometimes not even wit and humor if the audience is already committed to the outcome by the prevailing propaganda. There is no time or energy in my overfull schedule for such preparation, plus time away and jet lag.
Moreover, I am not an expert on Israel's conquest and occupation of Palestine. I know more than most people. I was rescued from Zionist propaganda by Israeli historians, such as Ilan Pappe; by Jewish intellectuals, such as Noam Chomsky and Norman Finkelstein; by documentary film makers, such as John Pilger; by Israeli journalists such as Uri Avnery and the Israeli newspaper Haaretz; and by an Israeli houseguest who is an Israeli member of an Israeli peace group that opposes Israeli destruction of Palestinian homes, villages, and orchards in order to build apartment blocks for settlers.
There is only one take on the current Israeli slaughter of Palestinians, which Netanyahu, the demonic Israeli leader, declares will be a "protracted campaign" this time. We are witnessing yet again Israeli war crimes that are supported by the Great Moral West that is so concerned about the deaths of 290 passengers on MH-17 that they are about to drive the world to a major war, while Palestinian casualties pile up so fast that they are out of date by the time you put the numbers in a column. So far more than 1,200 deaths, with injuries to 2,000 children, 1,170 women, and 257 elderly.
Reading the Western Media, watching Western TV, and listening to Western radio, one is left with the propaganda that the Palestinians are to blame for the Israeli attack on Gaza, just as one is left with the propaganda that the Malaysian airliner deaths are Russia's fault. There is no evidence, but propaganda does not require evidence. Just repetition.
The Gaza strip, a ghetto full of Palestinians evicted from their homes and villages in the West Bank, is one of the most densely populated areas on earth where life with scant resources is difficult. Israel is currently in the process of shrinking Gaza by 44 percent, and Senate Majority Leader Harry Reid, a Democrat, is preparing another "emergency" aid package consisting of US tax dollars to finance Israel's slaughter and compression of Palestinian lives. (See here, here, and here.)
One would think that the Great Moral West would be discussing sanctions on Israel and on Washington's stooge government in Kiev, which is bombing civilian homes, apartment complexes, and infrastructure in provinces where the people object to the Russophobic government installed by Washington in place of the one that they elected. But the Great Moral West only aids the perpetrators of death and destruction, not the victims.
Palestinians are being dispossessed and exterminated exactly as were the native American Indians. On occasion Israeli officials have said that they are only following America's lead in clearing the land of undesirables. Below is my take on what is one of the West's great moral failings:
Israel Is Stealing and Murdering Its Way Through Palestine
As Zionists have endeavored to teach the world for decades, Israel is not subject to criticism. Only Jew-haters, anti-semites, and people who want to gas Jews and boil them in oil criticize Israel. Israel is above criticism, because Israelis are God's Chosen People and despite being God's Chosen People, they suffered the Holocaust.

This means that the Israeli government, like the one in Washington, can do whatever it wants and remain above criticism.
Since the 1940s Zionists have been stealing Palestine from the Palestinians. The majority of Palestinians have been removed from their homes and their country. They exist in refugee camps in other countries and 1.5 million are concentrated in the Gaza Ghetto, which is blockaded by Israel on one end and by the Washington paid Egyptians on the other.
This makes it convenient for Israel from time to time to attack the civilian population and civilian infrastructure in Gaza with military force. So far in Israel's latest war crime, Israel has murdered more than 1,200 Palestinians, largely women and children. You will seldom see the photos of the destruction in the American media, but RT provides a few glimpses.
Israel is always the aggressor but always takes the role of the victim. Palestinian women and children are all subhumans -- "snakes" as one Israeli politician put it -- who sneak into Israel through secret tunnels (whose existence is akin to Saddam Hussein's weapons of mass destruction) wearing suicide bomb belts and blow up innocent Israelis along with themselves while Israelis sit in cafes peacefully discussing philosophical issues and the latest news. To stop this slaughter of innocent Israelis, Israel has to blow up Palestinian hospitals, schools, and civilian homes and apartment blocks.
(Note: You can view every article as one long page if you sign up as an Advocate Member, or higher).