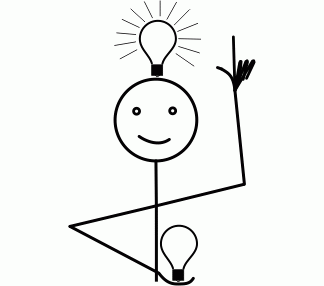 Innovate!
(
Image
by
Jonathan J. Dickau
)
Details
DMCA
Progress is inevitable. The future will come, and there is little or nothing anybody can do to change that. The question is "Will the world of tomorrow be better for humanity than what there is now?" And that is where we can make a difference, by what we do today. While things will change, regardless of what we do, our actions in the present will determine whether life will improve or get worse -- and whether many people, or only a few, will benefit from the way things change. Perhaps the most important factor, determining whether we can enjoy a positive future, is innovation. Innovation is the driving force behind progress, which alone can make possibilities that did not exist before. Innovation is a creative act, in the purest sense of the word. When we innovate, we create value that was not there until we put our brain power to work. Furthermore; innovation can remarkably increase the value of both natural resources and the by-products of other activities, according to economist Paul Pilzer. He argues that the value of a commodity is not fixed, but rather is determined -- in large measure -- by the manner in which we utilize that resource.
If we develop more efficient automobiles, for example, the distance we can travel on a gallon of gasoline increases. If you double the MPG, this means one can travel twice as far using the same amount of fuel. But the effect is more dramatic when innovation allows one to utilize something which would otherwise be treated as waste or scrap. A large portion of the by-products from the logging and milling industry, which were once discarded, are now used for plywood and pressed board, charcoal briquettes, and garden mulch. Thus; what once had been a burden, is now a benefit -- as a direct result of innovation. Imagine if you were the innovator, who was able to utilize a resource that people would pay money to haul away, and turn it into something new -- that people will pay money to buy. This is almost like finding a pile of money that someone dropped on the ground -- except that those who utilize the products of innovation can reap the benefits of such 'found money' again and again. This makes insights and innovation potentially more valuable than the resources used in the manufacture of goods. It is arguable that many of those resources are worthless, without the knowledge of how they can be utilized.
Considering how much value there is to innovation, we should do whatever we can to cultivate or nurture the process, and to increase the prospects for future innovations. In this manner, we can foster progress and prosperity in far greater measure than what we see today. Those companies who have cultivated innovation actively -- over the time they have been in business -- are among the most successful firms today. And many newer businesses have become top firms because of the innovative ideas they were founded to develop, actualize, and promote. Likewise; the fate of nations has also depended on innovation, as the ability to innovate creates advantages that aid survival -- over time. It is the most important factor which determines the ability of any entity to compete, or to endure, and it may be the biggest reason humans are the dominant species on the planet. Those who are able to out think the competition tend to prevail, even if the others have a substantial natural advantage, such as their strength, speed, or size. In fact; intelligence may be the greatest natural advantage that nature can confer, and it almost certainly helped early human survive.
So; our ability to innovate has helped us to come this far, and it may be sorely needed for us to survive much longer. While it can clearly be shown that our ingenuity has created many of the problems humans face today, it can also be argued that the real problem is incomplete reasoning -- not thinking enough about what we are doing, rather than thinking too much, or too hard. It is true that our Science and Technology have allowed us to craft horrifying weapons and also to create man-made disasters, like the oil spill in the Gulf of Mexico and the nuclear accident following the earthquake at Fukushima. When people try to harness the power of nature, they need to appreciate how powerful nature actually is, or they will suffer for their attempts. But this does not mean that using our brains too much created the problems we see. Rather, it is largely the inability of lesser minds to accommodate the perspective of the great thinkers among us; that gets us into trouble. You see; innovators do not work in a vacuum, nor are great thinkers often great builders, great business people, and great salesmen or popularizers. So, while there are some individuals who can carry a creative process through -- from its inception to a deliverable product -- it is more typical that bringing an idea to fruition requires the efforts of several, or many, individuals working together. Thus it is also essential that there be cooperation among people with different skills and background knowledge -- for some ideas to become innovations.
In the modern world, the complexity of our knowledge and the pace of progress make cooperation more crucial than at any time in our history. This is probably the most true on the leading edge of Science and Technology. Nobel Prize-winning physicist Gerard 't Hooft made a very strong case for this, in a lecture I attended at the 10th Frontiers of Fundamental Physics conference -- which was at UWA near Perth, Australia in 2009. He said that some of the hoped for advances in Physics might never come, unless there is an unprecedented level of cooperation and collaboration among not only physicists from different disciplines, but also engineers, mathematicians, programmers, technicians or technologists, and in some cases even philosophers. A similar statement can be made about a number of different fields, and not just Physics. But bringing people together and involving them in a cooperative effort to create or explore something new can have great benefits, sometimes reaching far beyond the purpose which that effort was intended to serve. The World Wide Web is largely a product of innovations undertaken to allow physicists to collaborate -- and to share data from CERN, which was seen to be of interest to the Physics community worldwide. In large measure; the LHC at CERN is the very model of the type of cooperation Professor 't Hooft was speaking about, as the work they do brings together people from a great array of disciplines, and depends upon a collaborative effort -- to get the work done.
Another speaker at the FFP10 conference was Nobel laureate Doug Osheroff, and he also spoke about what is required for new innovations or discoveries, in a talk entitled "How Advances in Science are Made," which is available from several sources on the web. Professor Osheroff also stresses the need for cooperation, but he goes into more detail about strategies an individual might adopt -- to increase the chances of finding or developing something new and exciting. One essential piece of advice he offers, which is often overlooked, is simply to be willing to look where others haven't looked and try what others haven't tried. He advises that we look to scientific theory for insight and ideas on what might be interesting and where we might find it, but not to trust that it is 100% accurate, and rather to let the experimental results tell us what is real. A speaker at last year's conference, FFP11 in Paris, was John Ellis who was chief theoretical physicist at CERN -- and he had an amusing story of how this idea should inform researchers and innovators, involving Margaret Thatcher. It seems Mrs. Thatcher made an official visit to CERN -- at some point -- and when she was introduced to Professor Ellis, she asked him "What do you do here?" He replied that it was his job to work through pages of intensely difficult calculations, to make predictions about what they might find, and then hope that what showed up was something different. She asked "Wouldn't it be better if you actually found what you expected to see?" And his response was "No. Then we wouldn't learn anything interesting."
This kind of playful open mindedness is essential to progress. And that message is something I have heard echoed by numerous Physics researchers, as well cognitive experts. Another speaker at the Paris conference (FFP11) was Anton Zeilinger, and he also mentioned the need to be playful and open minded, if one is to make progress in research -- or to create results worthy of note. He advised those attending that he once told his employers "If you want us to have results, don't expect us to produce results." He explained that if you don't give yourself the freedom to explore, to make mistakes sometimes, and to try something different when all else fails, you greatly reduce your chances to make meaningful progress. This is essentially what Ellis was saying with his story, and what Osheroff spelled out in detail, in his lecture. Professor Osheroff stated that we should not view negative results as a failure, but rather should think of them as an exciting opportunity to learn something that was not understood before. However; most project managers are not trained to think that way, and tend to push for results above all else. The problem is that this really can stifle progress. Putting an innovator or researcher on the defensive shifts their attention to lower brain centers. Unfortunately, the 'lizard brain' is not equipped for problem solving -- as it deals with things more or less automatically, according to programming that is locked in by adolescence. Instead; what is required for innovative thinking is to move the attention into the neocortex, by entertaining possibilities and actively playing with them until answers appear.
Many cognitive experts have observed that our ability to be innovative is innate in all humans, and develops at an early age. Researcher Alison Gopnik has observed that young children are like scientists who formulate theories, perform experiments, and then create new models of reality to test -- again and again. And writer Joseph Chilton Pearce has detailed in several books, how society tends to condition us out of this mindset, over time, robbing us of our creativity and innovation. In a recent book with Michael Mendizza "Magical Parent Magical Child" he details ways that maintaining a sense of play can aid our success in almost any endeavor. But if we are talking about increasing innovation and fostering progress; it's easy to show that this is aided by allowing the innovators to be more playful and that we can short-circuit progress by insisting that everyone involved be serious about their work -- by acknowledging the need for results at all times. The truth is that the more freedom researchers and innovators have to explore, the more useful results they will produce, but if we are too concerned with results this makes for timid research, and meaningful results come more slowly -- if at all. So it's best to accord Research and Development folks as much freedom as possible.
There will always be limits, of course. And sometimes the best that one can do is attempt to live within those limits. One must do what one can, with a certain amount of time on the equipment, or with a certain amount of money in the budget, and hope that something of value comes out of your effort. A piece of apparatus like the LHC at CERN costs billions of dollars to build, and requires massive amounts of power each time it is fired up, so to have a few minutes of time on a machine like that -- for your experiment -- is quite a privilege. Likewise; if your experimental apparatus must be lofted into space, in order to test for something, getting the chance to have it fly is a rare honor. But even if your needs are more modest, and all you need to do is look in a part of the sky that hasn't been explored with a powerful telescope, these instruments are often booked months or years in advance. And of course; there will always be experiments that can't be performed with current technology, and innovative technologies we haven't got the fabrication techniques to even build yet. So; there will always be limits to what we can do, at any point in time, and this will not change -- although the limits themselves will recede or disappear over time. But innovators will always be looking for ways to 'push the envelope,' to go beyond the limits of today, and to create the Science and Technology of tomorrow. There will always be limits and barriers to progress, and this is a fact of life, but the fact remains that there are also ways to actively encourage innovation and promote progress.
Unfortunately; there are forces at work which could limit or stall our progress. One of the current problem areas, in this regard, is Education -- and especially Higher Education. If we are too focused on information, and not enough on understanding, this creates problems. Forcing teachers to abandon explaining how things work and getting their students to think for themselves, in favor of making teachers 'teach to the test' and having their students memorize answers, may actually make things worse. The goal should be to promote better learning habits and problem solving skills, or to increase their comprehension and retention of knowledge, but it is well known that the goal in many cases is mainly to improve test scores. American educators are now 'under the gun' to instruct their students in this way, using mainly memorization of more and more information, but people in China are now beginning to wake up to the fact that they have been doing this too long -- and that it has stifled innovation. It would be best if we don't go down that same road, but instead encourage our young people to be better thinkers and innovators. We need to go back to teaching our children to think better, rather than just how to memorize.
The idea that there is only one right answer, which never changes, is often a deterrent to progress. And from what I have seen, people on the leading edge in Science and Technology all know this. The reality for people at the forefront of knowledge is that what is known and what is believed real progresses over time. What is true today, especially in Science and Technology, will one day give way to the superior knowledge of the future. The world's greatest minds have been trying to inform the rest of us too, but we have to listen if that is going to make a difference. The world needs more innovators and more innovation. We need to promote innovation in every way we can, or we won't be around much longer. It is the only way human beings will be able to fix some of the problems we ourselves have created. And there are plenty of people who have a clear idea about how we can encourage innovation and foster progress. But we must heed what they have to say, take the advice to heart, and actually do it. Otherwise; we are in for some rough times ahead. But plenty of positive progress is possible, if we actively encourage innovation. Take my word for it; innovation is the surest road to progress.