Reprinted from The National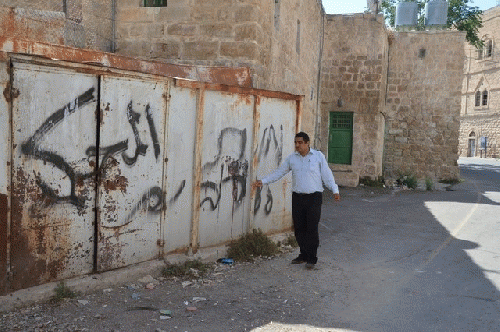 Badee Dwaik, of the non-government organisation Human Rights Defenders, points out grafitti on a wall in occupied Hebron, H2, that says 'death to Arabs'.
(
Image
by
Kate Shuttleworth for The National
)
Details
DMCA
>
In Israel's evermore tribal politics, there is no such thing as a "good" Arab -- and the worst failing in a Jew is to be unmasked as an "Arab lover." Or so was the message last week from Isaac Herzog, head of Israel's so-called peace camp.
The shock waves of popular anger at the recent indictment of an Israeli army medic, Elor Azaria, on a charge of "negligent homicide" are being felt across Israel's political landscape.
Most Israeli Jews bitterly resent the soldier being put on trial, even though Azaria was caught on camera firing a bullet into the head of a badly injured Palestinian, Abdel Fattah Al Sharif.
In the current climate, Mr Herzog and his opposition party Zionist Union have found themselves highly uncomfortable at having in their midst a single non-Jewish legislator.
Zuheir Bahloul, an accommodating figure who made his name as a sportscaster before entering politics, belongs to the minority of 1.7 million Palestinian citizens, one in five of the population.
Unlike most of Israel's Palestinian politicians, he preferred to join a Zionist party than one of several specifically Arab parties. Nonetheless, he embarrassed colleagues by briefly pricking the bubble of unreason cocooning the country.
Attacks on soldiers were wrong, said Mr Bahloul, but a Palestinian such as Mr Al Sharif -- who tried to stab soldiers at a checkpoint in the West Bank city of Hebron -- was not a "terrorist" by any normal definition. Terrorists target civilians, Bahloul noted, not soldiers enforcing an illegal occupation.
Other Zionist Union MPs raced to disown Mr Bahloul, while Mr Herzog warned that the party was unelectable as long as it was seen as full of "Arab lovers."
Mr Bahloul is hardly the first Palestinian politician in Israel to find himself denounced as a "bad" Arab. But the others have mostly sinned by demanding an end to Israel's status as a Jewish state. Israel is currently promulgating a law to oust such dissenters from the parliament.
Now the earth is shifting beneath the feet of formerly "good Arabs" such as Mr Bahloul, the small number who cling to the belief that a self-declared Jewish state can be fair to them.
It is no longer just the state's Jewishness that is sacrosanct. The occupation is too.
Salim Joubran, the only Palestinian judge in the supreme court, fell foul of this creed last week as the court considered an appeal from Raed Salah, leader of the northern Islamic Movement, against his jail sentence for incitement to violence.
There is almost continual incitement by Jewish political and religious leaders, but indictments are almost unheard of. Two rabbis who wrote a book, the King's Torah, calling for the killing of Palestinian babies were investigated but not charged.
In his minority opinion, Mr Joubran thought it reasonable to observe that Mr Salah's remark urging the Arab world to support the Palestinians with a "global intifada" to protect Jerusalem's Islamic holy sites under occupation was more rhetorical than a call to arms.
He was wrong. Israelis took to social media calling for an "intifada" against both him and the supreme court.
(Note: You can view every article as one long page if you sign up as an Advocate Member, or higher).