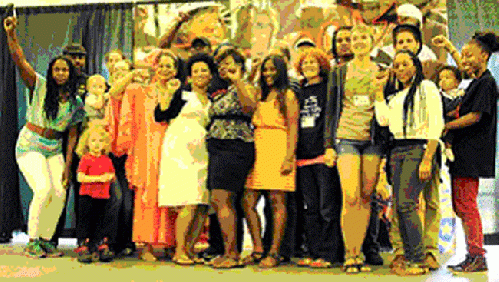 Jackson Rising
(
Image
by
Press for New Economies Conference
)
Details
DMCA
Members of the Malcolm X Grassroots Movement celebrating the recent Jackson Rising New Economies Conference about rebuilding the city's economy through worker-owned cooperatives. (WNV/MXG)
THE solution to racism rests first of all with individuals who can cure it easily by making nice to others, not by pushing them around and calling them names. Secondly, organizations are also responsible. Racial organizations give the appearance of bad will whether it is KKK or NAACP. Abolish a "black caucus" in Congress. Change the name of the NAACP to National Association of United Races.
Race wars are made by selfish people who covet the few crumbs people of another race have managed to pick up from the tables of the well-to-do. Perhaps they also seek racial hegemony. Obviously they see only their own suffering and have no empathy for others of all races the world over, suffering even more severe social and economic abuse.
We need to consider the environment in which racism is possible and seek to cure the real culprit, not those caught up in a bad system. As the Young Turks would suggest, we need not blame the cop, but blame something much bigger (http://bit.ly/1tijxGV). And the problems are definitely global, top down to the local. In fact, we are living on a one-party planet, as you can see here: http://bit.ly/11hJDUd.
(Note: You can view every article as one long page if you sign up as an Advocate Member, or higher).