From Truthdig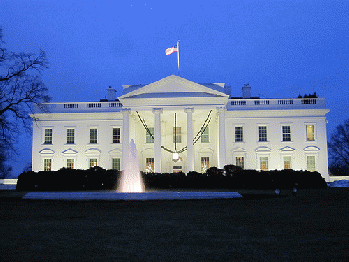 White House
(
Image
by
Tom Lohdan
)
Details
DMCA
Amidst the hellish chaos of the Donald Trump catastrophe, it's more essential than ever to understand how he got into the White House and who put him there. Then we need to make sure it doesn't happen again.
In her recent blame-everybody-else-while-doing-nothing screed, "What Happened," Hillary Clinton fingers James Comey, the Russians and Bernie Sanders.
But, in fact, Hillary Clinton, Al Gore and John Kerry put this madman in office.
This trio of multi-millionaire corporate Democrats won the presidential races of 2000, 2004 and 2016. Then they lay down, said hardly a word and did even less as they let George W. Bush and Donald J. Trump rule the land.
All three presidencies were stolen by stripping large numbers of black, Hispanic, Asian-American and young citizens from the voter rolls, and then electronically flipping the vote count. In 2000 and 2016, the thefts were finalized by the Electoral College.
Along the way, the United States House, Senate and a thousand state, federal and local offices also have been flipped. The Supreme Court has come along for the ride.
The impacts -- eight years of George W. Bush and an eternity of Donald Trump -- have been somewhere between catastrophic and apocalyptic.
We will recover only if we do what the corporate Democrats have not: Face up to how our entire electoral system has been become a sham and then change it.
Let's start with Al Gore and Florida 2000.
In 2000, Gore was duly elected president of the United States. He won the popular vote nationwide by more than 500,000 ballots. Later, independent assessments showed he rightfully won Florida, which would have given him a majority in the Electoral College.
Officially, Gore lost Florida by 537 votes. In its infamous 5-4 Bush v. Gore decision, the Supreme Court stopped the recount that might have given Gore the presidency. The deciding vote was cast by Clarence Thomas. Gore, as a U.S. senator, had voted to put him on the bench.
But then-Gov. Jeb Bush, George's brother and son of the former head of the Central Intelligence Agency, actually prevented the legitimate citizen votes that would have won Gore the presidency. In shifting Florida from Gore to George W. Bush, Jeb Bush used a wide array of strategies perfected by their father at the CIA for overthrowing Third World regimes that American corporate interests deemed inconvenient. Florida 2000 was the logical follow-up.
As Greg Palast reported, Jeb used the ChoicePoint computer program to strip some 90,000 mostly black and Hispanic citizens from the voter rolls. As reported by activist Bev Harris, some 20,000 votes were electronically bounced around in Volusia County and elsewhere. At critical points on election night, they kept Bush2's chances alive.
About 50,000 votes were tallied for the great consumer activist Ralph Nader in Florida 2000. Corporate Democrats still scream at him for daring to run at all. That pubic assault has shifted the focus away from how the election was actually stolen while undercutting America's most effective corporate critic. In the perennial war waged by corporate Democrats against social democrats, this has been the new millennium's centerpiece.
(Note: You can view every article as one long page if you sign up as an Advocate Member, or higher).