The Dakota Access Pipeline (DAPL), owned by the Texas company Energy Transfer Inc., is a $3.7 billion oil pipeline that runs southeastward from the Bakken region of northwestern North Dakota down to southern Illinois. The planned route through south central North Dakota traverses particularly sacred areas of the Standing Rock Indian Reservation. One such area, known originally as Sacred Stone Camp and located along a tributary of the Missouri River known as the Cannonball River, has become the epicenter of a bitter standoff between interests of the oil industry and those of Native Americans. The proposed pipeline threatens water supplies for the reservation and also requires significant disturbance to sacred sites that are specifically protected by the National Historic Preservation Act (Public Law 89-665; 54 U.S.C. 300101 et seq.) These sites are considered sacred to the descendants of all bands of Sioux Indians, who cite them as being essential to their identity as a People.
Thousands of protesters have tried to bring attention to the nature of this destructive activity on the Standing Rock Sioux Reservation and to stop DAPL from causing further damage to water supplies and sacred sites. With an estimated population of 5,000 to 7,000 here, this area qualifies as among the fifteen most populated cities in North Dakota.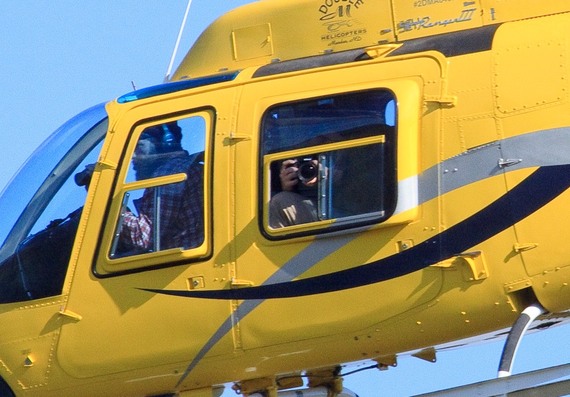 For the past several months, protesters have been harassed and frightened by frequent low-altitude helicopters and fixed-wing aircraft flying surveillance over them. Two such surveillance helicopters are Bell Ranger 206B helicopters. These are not lightweight aircraft. In the 1960s, the U.S. Navy used the 206A as its primary training helicopter. The 206B Jet Ranger was introduced in 1971. In 1993, the U.S. Army approved the Bell 206B-3 as its primary training helicopter. A local company known as Double M Helicopters, Inc. out of Mandan, ND owns one of the surveillance helicopters. Another of the helicopters, flying on behalf of local law enforcement and flying at low altitudes over the heavily populated main Oceti Sakowin encampment, has been found to have been flying with registration numbers that have been altered in order to disguise the identity of its registered owners.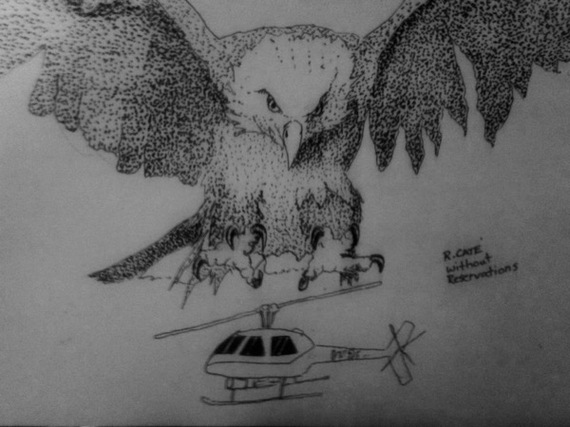 In particular, on September 8 and 9, a yellow Bell Ranger 206B helicopter was making low passes over this area; low enough that people on the ground could easily identify he helicopter's registration "N-numbers," which the FAA requires to be clearly visible and legible. In fact, it was also easy to see that those N numbers had been altered from their original digits. What appeared to be "N10767" was in fact an altered version of "N16757." See the photo below, taken with a 200 mm lens on a Nikon D7000 camera.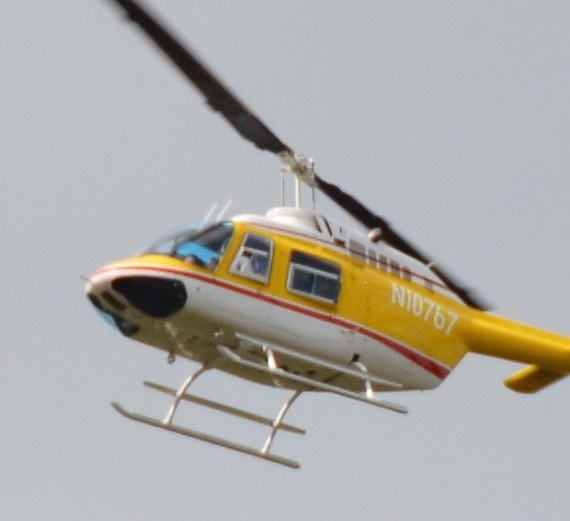 Flying Under False Flag
Flying with false registration is a serious violation of FAA regulations. Section 49 of the U.S. Code states that anyone " who knowingly and willfully displays or causes to be displayed on an aircraft a mark that is false or misleading about the nationality or registration of the aircraft" shall be "fined under title 18, imprisoned for not more than 3 years, or both." Given the arguable over reach of power and the use of military tactics by the Morton County Sheriff's Office since the protests began in August, this situation requires a serious discussion.
The registration number N10767 actually belongs to a fixed-wing single-engine pressurized Piper Malibu Mirage (PA46-350P), built in 2007 and owned by Kansas Development Corporation, Inc. in Junction City, Kansas. One wonders if Kansas Development Corporation, Inc. was notified of this intentional ruse.
The actual N-number for this Bell Ranger 206B helicopter, N16757, identifies it as being registered to Arnold Johnson, Jr. of 37190 US Highway12 in Mina, SD. This helicopter, with its altered N-numbers, has been seen to re-fuel at Mandan Municipal Airport (Y19), south of Mandan on Hwy 6 near Sheriff and Highway Patrol offices.
We filed an inquiry and complaint with the FAA Fargo Flight Standards District Office (FSDO). Within ten days the officer in charge replied that they had conducted an investigation "and determined that further action was warranted" and "that a compliance action had been completed."
Several important questions remain unanswered: who ordered the alteration of the N number on the Bell Ranger 206, the exact name of the person who hired the helicopter, what compliance action was taken, and the reason behind the N number falsification by Arnold Johnson Jr., or the person/entity that hired his helicopter.
Freedom of Information Act Response
A response to FOIA request 2016-009518F6 provided some, but not all of the missing information. The FOIA response indicated that there is no official record of the person or entity that hired the Bell Ranger, but that Mr. Johnson "admitted that the registration number was altered from N16757 to become N10767." Johnson told investigators "this was due to threats made against registered owners of aircraft being flown supporting law enforcement during the oil pipeline protests near Bismarck, North Dakota."
If the Morton County Sheriff's Office ("law enforcement") or DAPL hired Mr. Johnson, the Sheriff's office and/or DAPL has broken the law by knowingly or willingly hiring an aircraft with a false N Number.
(Note: You can view every article as one long page if you sign up as an Advocate Member, or higher).