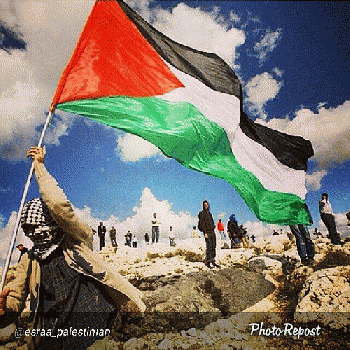 Liberate Palestine
(
Image
by
Pedro Fanega
)
Details
DMCA
Franklin Lamb, Oxford
By ending a decade-old schism of strained relations with Fatah and finally reconciling also with Iran, Hamas would have an historic opportunity to achieve elementary civil rights for Palestinian refugees in Lebanon.
Toward reconciling with Fatah, Hamas has disbanded its own administrative committee in charge of the Gaza Strip in favor of the Palestinian National Authority (PNA) based in Ramallah and is ceding to the PNA the Gaza border crossings Israel and Egypt. While some Hamas leaders have maintained that the movement's military force is not up for negotiation, some in Fatah insist on an end to all military manifestations outside the control of the PNA.
Hamas' willingness to relinquish its authority in Gaza, shown by its agreement to disband its Administrative Committee there, increases the chances of a successful reconciliation. Hamas' governance of Gaza has become costly, as the siege has been tightened on the strip, external financial support has been cut, and as the Palestinian Authority (PA) recently imposed more sanctions.
Gaza based Hamas has a duty, as do all people of good will, to demand that Lebanon's sectarian political bosses permit Palestinian refugees the right to work and thus to earn a living for their families. Fortunately, given recent events, Hamas now has a unique, even historic opportunity to achieve for their sisters and brothers elementary civil rights.
Hamas is currently in high demand from various interests and has an excellent opportunity to demand a human rights consideration of Iran, Hezbollah, Fatah, and Syria. One phone call from Tehran or Damascus to Hezbollah's security zone in south Beirut can, after three decades of excuses, grant Palestinian refugees in Lebanon the most elementary civil rights enjoyed by every refugee on earth-even in occupied Palestine-but not in Lebanon.
Overdue Reconciliation
After half a dozen failed attempts, it now appears that all the concerned parties are finally supportive of Palestinian reconciliation including the various countries and their militias that continue destroying Syria and her people. Hamas is under heavy pressure to reconcile with Fatah given the escalating humanitarian crisis throughout the Gaza strip which has been intensified by the siege imposed by Egypt and Israel as well increasingly from Palestinian public opinion in Gaza calling for a better quality of life by lifting economic pressures.
The concept may appear deceptively simplistic. But this observer who has had the opportunity to work on this fundamental human rights issue the past several years with the Beirut-Washington DC based Palestine Civil Rights Campaign (PCRC) is optimistic it may well be achieved via the following steps briefly discussed below.
For seven decades since the 1948 Nakba, the anti-Palestinian prejudices of a majority of Lebanon's decision makers have blocked these rights in violation of numerous principles, standards, and rules of international humanitarian law. This has led to the damage of Lebanon's economy, social fabric and loss of self and international respect. Some Palestinian leaders in Lebanon and regionally have also failed their people in Lebanon among other ways by refusing pleas from Lebanon's 12 refugee camps to wage a street based civil rights struggle to achieve elementary civil rights. Rights that even the occupiers of Palestine grant to those they continue to dominate.
Sunni Hamas is willing to improve its relations with Shia Iran after a diplomatic gridlock caused by the Syrian crisis resulted in Iran cutting off aid to Hamas in 2012 with the exception of its 45,000 military wing, the Izz ad-Din al-Qassam Brigades. Iran wants the al-Qassam Brigades, also known as the Hamas 'Foreign Legion" to join its own 100,000 plus Shia Popular Mobilization Brigades (PMU which comprise a significant part of Iran's own two year old regional "Foreign Legion." Tehran promises to someday liberate Palestine but today wants Hamas to assist with other regional projects including more than one in the Gulf. Also in Tehran's geopolitical sites is having Hamas' use its future increased power in the PLO to marginalize Fatah and dominate the PLO. Suggesting among other things that Sunni and Shia can cooperate when it's in their mutual interests and their religious differences are not manipulated for political purposes.
Palestinians in Lebanon can benefit from a Hamas deal with Iran
Hamas spokesperson Badran told the media last week that its relationship with Iran has a long history and, in fact, Hamas never cut ties with Iran. "It is true that for a while, we have seen some cooling in ties amid the situation in Syria, but we have no disagreements on the Palestinian question. Iran has always supported us and for the last two years we have been working on restoring our relations. We decided in Palestine that we would continue to strengthen our relations with Iran." For us, it is important." With respect to Hamas spokesman Husam Badran's comment last week that Hamas and Iran have no disagreements on the Palestinian Question he does not accurately represent the majority of Hamas members who according to a recent poll very much consider the achievement of the right to work and home ownership in Lebanon to be a pillar of the "Palestinian Question." Meanwhile, Palestinians are appealing to Hamas that Iran needs to support giving Palestinians in Lebanon, where Iran has major control, elementary civil rights.
Iran's role is overdue. The fact is that for more than three decades Iran has not acted on this elementary civil rights issue but rather has reportedly instructed Hezbollah to offer only "Resistance" words but nothing more substantive. Hezbollah has complied. From time to time Hezbollah does admit during 'privileged conversations' that Palestinian civil rights in Lebanon is not part of its political agenda. One reason is sectarian leverage but equally is instruction from Tehran based on the "Iran Model" for this region. One aspect of which is that Lebanon must remain broken and barring Sunni Palestinians in Lebanon from their civil rights helps advance Iranian interests and influence. Despite typical Al Quds and Ashoura Day rhetoric to the contrary notwithstanding.
(Note: You can view every article as one long page if you sign up as an Advocate Member, or higher).