From Robert Reich Blog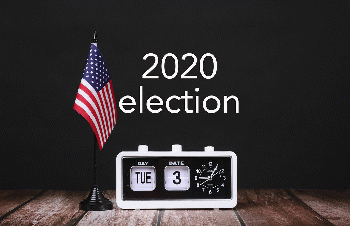 American flag and vintage clock with calendar showing 2020 election date
(
Image
by
wuestenigel from flickr
)
Details
DMCA
You've been in or around politics for more than 50 years. How are you feeling about Tuesday's election?
I'm more frightened for my country than I've ever been. Another four years of Donald Trump would be devastating. Nonetheless, I suspect Biden will win.
But in 2016, the polls ...
Polling is better now, and Biden's lead is larger than Hillary Clinton's was.
What about the Electoral College?
He's also leading in the so-called "swing" states that gave Trump an Electoral College victory in 2016.
Will Trump contest the election?
Yes. He'll claim fraudulent mail-in ballots in any swing state with a Republican governor or legislature. He'll tell them not to certify Biden electors until fraudulent ballots are weeded out.
What's his goal?
To deny Biden a majority of electors and throw the decision into the House of Representatives, where Republicans are likely to have a majority of state delegations.
Will it work?
No, because technically Biden only needs a majority of electors already appointed. Even if disputed ones are excluded, I expect he'll still get a majority.
What about late ballots? Trump has demanded all ballots be counted by midnight Election Day.
It's not up to him. It's up to individual state legislatures and state courts. Most will count ballots as long they're postmarked no later than Election Day.
(Note: You can view every article as one long page if you sign up as an Advocate Member, or higher).