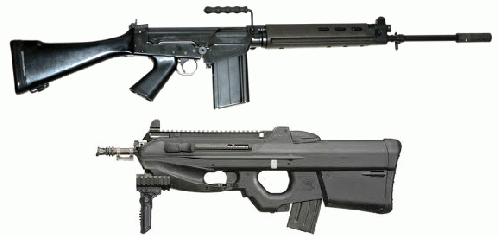 (
Image
by
James Ryan
)
Details
DMCA
BELGIAN BEST SELLERS
FN FAL Light Automatic Rife (since 1954)
FN F2000 Assault Rifle (since 2001)
Striving, Thriving and Dying By the Sword
By James Ryan

March 29, 2016
God did not seem quite so great just before noon on Wednesday, January 7, 2015 after two representatives of Al-Qaeda--Yemen branch paid a visit to the offices of Charlie Hebdo, the French satirical magazine. The world knows the rest. Native-born Parisians of Algerian parents, the brothers, Saïd and Cherif Kouachi, burst through Hebdo's front door their Czech Republic-made Skorpion submachine guns blazing. It didn't take long--at most seven minutes--eleven killed, eleven more wounded. The boys ran downstairs praising God's greatness--ALLAHU AKBAR! ALLAHU AKBAR! Outside they murdered a French policeman sprawled wounded on the sidewalk, like his killers, a Muslim. It's impossible to imagine how murdering and maiming twenty-three human beings would have pleased any god.
BIZARRE BAZAAR

The Kouachi brothers had purchased their Czech Republic-made Skorpions from an arms dealer near the Midi train station in Brussels. The Midi station is Brussels'rail hub for inter-European train travel. Given its central location, Midi is also a well known hub for black market weapons dealers. It's a short nine-minute subway ride to the Maelbeek Station bombed last week. Weapons dealers mean business in Belgium, big business. And the government means business too. The government of Belgium is Europe's largest exporter of small arms and "light' automatic weapons.
Besides being the leader in exporting weapons, Belgium is the leader in exporting a much more dangerous commodity, radicalized people. Adjusting for population size, Belgium is the largest provider of foreign fighters to the Syria/Iraq carnage. Accordingly, it has the largest pro-capita return of radicalized "jihadis" along with their hands-on experience with lethal weapons and attitude to match. Can it be? That the government of a small NATO country that leads in providing jihadis to the Middle East also owns the leading weapons provider to the Middle East? It can be. It is. And the world wonders what is causing the refugee problem! In a world where America sponsors terrorist mercenaries, in a world where CIA-backed forces battle against Pentagon-backed forces, in such a world anything seems possible. So meet Belgium's government-owned lethal weapons proliferator, FN Herstal (FN).

FN is a Liege-based private company wholly-owned by the regional government of Wallonia. It is the largest European exporter of small arms. There is nothing "small" about it. It does business with the militaries of over a hundred nations. Founded in 1889 to make Mauser rifles for the Belgian Army, FN has grown to be one of the world's largest weapons suppliers. From licensing data gathered by the Flemish Peace Institute , the Middle East is FN's primary market for its handguns, machine pistols, machine and sub-machine guns, rifles, shotguns and .50 caliber helicopter gun pod systems. Saudi Arabia is FN's second most important client. Who's number one? That's easy, the United States.

Their FN F2000 assault rifles are prolific throughout North Africa and the Middle East. It takes a two-second trigger-squeeze to empty its 30-round clip. The F2000 made its debut at the International Defense Exhibition in 2001, appropriately enough, at Abu Dhabi in the United Arab Emirates.
Next Page 1 | 2 | 3 | 4 | 5 | 6
(Note: You can view every article as one long page if you sign up as an Advocate Member, or higher).