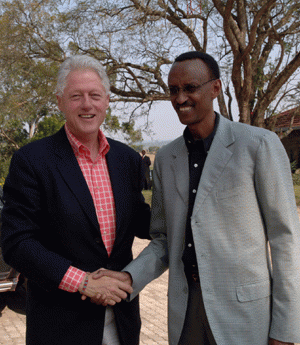 Longtime allies Bill Clinton & Paul Kagame
(
Image
by
Ann Garrison
)
Details
DMCA
>
As a political psychologist I rely for evaluation on behavioral history, and view self-presentation (e.g., campaigning) simply as a behavior sample of perception manipulation. Trump's demagoguery is ugly and blatant, the hysteroid rhetoric of fascism designed for emotional evocation, inflaming social conflicts long simmering beneath the surface. But while the fascist theater of Trump arouses alarm and passionate repudiation within one audience - the polite liberal class - the massive industrial-scale state violence of his leading opponent remains invisible to most of this same audience, buried in the American cultural script of Rescue.
Trump has exploited the hedonism, self-indulgence and wishful fantasies of stress-escapist citizens to acquire great wealth. The Clintons have pursued power and self-enrichment through exploiting citizen fear and racism, leaving massive death and destruction in their wake. Why, inquiring minds should ask, has there been such abundant press attention to Trump's loud mouth, obsessive narcissism and White colonial racist declarations, and so little to Clinton's narcissistic grandiosity and destructive abuses of state power demonstrating White colonial racism in action?
Hillary's continued support by Black voters reflects woefully effective media concealment. Clinton indifference to African lives was evident well before their sacrifice of AIDS victims to Big Pharma capitalism as I described in my March 16 OpEdNews story. When a peace agreement was signed in 1993 between the Rwandan Hutu government and the RFP Tutsi force invading from Uganda led by Paul Kagame, the UN sent a peacekeeping force of 2,500 troops to assist its implementation, the United Nations Assistance Mission for Rwanda (UNAMIR) commanded by Canadian General Romeo Dallaire. The ceasefire collapsed when a plane was shot down in April 1994 killing the Rwandan president, launching a premeditated genocidal war that was in fact RFP-instigated and reciprocal although blamed on Hutus. In just over three months, perhaps a million were brutally slaughtered while General Dalliare was confined to remaining a helpless and psychologically traumatized spectator under rules of engagement restricted to passive provision of sanctuary and humanitarian relief while denied the 8,000-troop intervention force he requested. Why?
Rwandan skulls & bones in Nyamata Church
(
Image
by
Canada.com
)
Details
DMCA
According to US intelligence reports declassified last year, President Clinton knew that genocide was underway but avoided the word, chose not to intervene, buried the reports, pushed the UN Security Council to reduce UN peacekeeping forces from 2,000 to 270 limited to observer roles, and later, while offering apologies, lied about his awareness of the horrors. But again, why? Once exposed, the initial excuse was fear of a Mogadishu repeat in an election year facing a strong Republican upsurge.
But it has been learned - as the UN troop reduction suggested - that Clinton complicity went far beyond passive neglect. In his invasion and seizure of Rwanda, and several subsequent attacks upon Mobutu in Congo, General Kagame received financial, military and political support from the Clinton administration and had been trained at the U.S. Army's Command and General Staff College in Fort Leavenworth, Kansas. As reported by Rwandan refugee, activist and writer Aimable Mugara:
"Attracted by the immense mineral wealth of Congo, the U.S. supported Gen. Paul Kagame's 1990 invasion of Rwanda from Uganda, expecting Kagame to facilitate access to Congo...the only city marked on President Bill Clinton's map besides the Rwandan capital Kigali is the border city of Goma, Congo, center of the fighting over and plundering of Congo's mineral wealth. More than 6 million civilians would later die under Bill Clinton's eight-year reign."
President Clinton discusses Rwanda
(
Image
by
SF Bay View
)
Details
DMCA
In addition to gold, diamonds, cobalt and copper, central Africa's mineral wealth includes uniquely accessible rare earth elements such as coltan essential in the production of consumer electronics including cell phones, laptops and flat screen TVs, now aptly designated "conflict minerals."
In his role defending Rwandan General Augustin Ndindiliyimana in the prolonged International Criminal Tribunal for Rwanda, international attorney Christopher Black gathered evidence of US/UK collusion in arming and supporting Kagame's invasion and subsequent attacks on Congo throughout the Clinton administration as described by Mugara. Through Black's painstaking efforts against massive secrecy and censorship, Ndindiliyimana was eventually acquitted as a scapegoat.
Confirming this disturbing picture, the Clinton/Kagame affiliation has continued far beyond Bill's administration through Clinton Foundation and Hillary State Department projects in Rwanda. Despite Kagame's abysmal report cards from Amnesty International and Human Rights Watch, Bill remains effusive in his praise, calling Kagame among "the greatest leaders of our time."
And let's not forget the devastating 2010 earthquake in Haiti - 95% Black, poor, and an irresistible opportunity for disaster capitalism led by the Clinton gang. Predictably, murky interweavings developed between Hillary's State Department including USAID's "troubling lack of progress and accountability" administering 3.6 billion U.S. taxpayer dollars, predatory neoliberal banks, Clinton Foundation fundraising from countries doing business with the U.S. government, allegations of corruption and rigged elections, watchdog firings, and suspiciously missing and redacted Hillary emails. Haitian lawyer and human rights activist Ezili Danto claims that less than 1% of some $6 billion of international relief aid managed by Bill Clinton's Haitian Relief Fund was distributed to the Haitian government.
Should we be surprised? The Clinton Foundation explicitly and conveniently rejects "artificial boundaries between business, government and nonprofits." Under a Clinton co-presidency II, we should expect an open back door to the U.S. Treasury while out front the public applauds the new Black face on their $20 bills.
(Article changed on May 29, 2016 at 16:28)