Forty-four years ago, on Feb. 9, 1971, the Apollo 14 Command Module splashed down in the South Pacific after nine days in space. It was a half-million mile round trip which included nine hours on the surface of the moon for astronaut Edgar Mitchell, 84. His odyssey resulted in an "equal and opposite" inner journey--on the return to Earth, Mitchell had a "samadhi" experience--a sense of profound oneness with the universe--which left him forever changed.
Edgar Mitchell, Apollo 14 Lunar Module Pilot
(
Image
by
(From Wikimedia) NASA
, Author: NASA)
Details
Source
DMCA
Ten years earlier, the dramatic vision of sending an American to the moon and back was announced by President John F. Kennedy on May 25, 1961, before a special joint session of Congress. He stated that he wanted to accomplish this goal before the end of the decade.
NASA says, "The decision involved much consideration before making it public, as well as enormous human efforts and expenditures to make what became Project Apollo a reality by 1969. Only the construction of the Panama Canal in modern peacetime and the Manhattan Project in war were comparable in scope."

It was a hopeful and exciting time in American history, a time when anything seemed possible.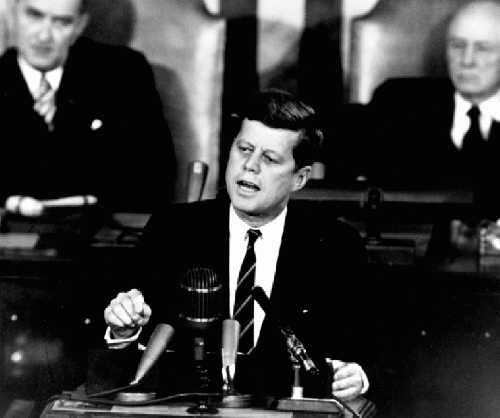 May 25, 1961. JFK announced before a special joint session of Congress the dramatic and ambitious goal of sending an American safely to the Moon before the end of the decade.
(
Image
by
NASA
)
Details
DMCA
President Kennedy's goal was achieved when Apollo 11 commander Neil Armstrong stepped onto the Moon's surface on July 20, 1969--before the end of the decade, just as JFK had predicted, although it was six years after his assassination.
Edgar Mitchell became the sixth person to walk on the moon on Jan. 31, 1971. Apollo 14 was the eighth manned mission of the Apollo program, and the third to land on the moon. Mitchell, the Lunar Module Pilot, is the last surviving member of that crew, which included the commander, Admiral Alan Shepard and Colonel Stuart Roosa, the Command Module Pilot.
Dr. Edgar D. Mitchell
(
Image
by
Dr. Edgar D. Mitchell, used with permission
)
Details
DMCA
Mitchell is the recipient of numerous awards, including the Presidential Medal of Honor (1970). He is the founder of IONS (Institute of Noetic Sciences) and co-founder of the Association of Space Explorers, an international organization founded in 1984 for all who share the experience of space travel. Mitchell is the author of several books and he holds a Ph.D. in aeronautics/astronautics from MIT.
Meryl Ann Butler: Thanks for visiting with us here at OpEdNews, Dr. Mitchell, it's quite an honor. I was a senior in high school when we watched Apollo 14 lift off, what a thrill! As a result of that flight, you had two life-changing experiences in the course of about a week--you walked on the moon, and you had a peak experience of universal connectedness on your return to earth--so while the world was focused on what was going on in outer space, you had some significant "inner-space" experiences. Can you share a little bit about the differences between the Edgar Mitchell who lifted off in Apollo 14, on Jan 31, 1971, and the one who landed in the South Pacific Ocean, on Feb. 9?
Astronaut Edgar D. Mitchell, lunar module pilot, is assisted out of the Command Module, Feb. 9, 1971.
(
Image
by
NASA
)
Details
DMCA
Dr. Edgar D. Mitchell: I had a new and enhanced appreciation for the beauty of seeing our Earth from afar, sitting in its place among the stars as it circles our own star, the Sun; and an enhanced sense of joy. As I say in my book, '"For me, seeing our planet from space was an event with some of the qualities traditionally ascribed to religious experience. It triggered a deep insight into the nature of existence--the sort of insight that radically changes the inner person. My thinking--indeed, my consciousness--was altered profoundly. I came to feel a moral responsibility to pass on the transformative experience of seeing Earth from the larger perspective.'
...when we were coming home, I had time to contemplate. The spacecraft was working well. I could look out the window for three days and enjoy it. I had a non-local feeling that there is something here I don't understand even though I know about galactic formation, how the stars and elements were formed, and so on. I felt a part of it. It was my molecules; it was real, abstract, sensation. That insight set the tone for my last 30 years. I had to understand what kind of a brain is it that allows me to experience this. So I came back and started studying the mystical traditions, Uri Geller, and the inner religious experiences of humans. Because of my epiphany in space, I have come back and spent 30 years trying to explain what mind-brain is.

-Edgar Mitchell
Earthrise photo with Mitchell quotation
(
Image
by
NASA (photo)
)
Details
DMCA
MAB: Your career took you on a rising trajectory from 1953 when you joined the Navy, and you served as a pilot until 1965 when you enrolled in the Aerospace Research Pilot School. The following year you graduated first in your class and were selected to be an astronaut, and this was followed by five years of more training before walking on the moon in 1971. Then just a year later--after nearly 20 years of government service--you retired from NASA and the Navy. This chronology speaks to me of a person who perhaps fulfilled one set of goals and was ready for another...You founded IONS (Institute of Noetic Sciences) just a year after you retired, and have been active in the organization since then. What can you share with us about your inspiration for founding IONS, and how it might be useful for our readers today?
Mitchell's photo of Shepard was selected as one of Popular Science's 'Best ever Astronaut Selfies'
(
Image
by
NASA
)
Details
DMCA
EDM: I had been interested in parapsychology for several years and had followed J.B. Rhine's work at Duke. Thus I did a successful psychic experiment in space during my Apollo 14 flight. It was as successful as those done from room to room in Rhine's lab. (Ed. note: these were published in the Journal of Parapsychology in 1971.)
I retired from NASA and the Navy because the additional flights I was scheduled for (Apollo 19 and 20) were cancelled. After leaving NASA I was introduced to Uri Geller and did experiments in parapsychology at SRI (Stanford Research Institute) which were highly successful. And that led to forming IONS in California to pursue making consciousness a proper science for public study.
On the IONS website, we say that its mission is "supporting individual and collective transformation through consciousness research, educational outreach, and engaging a global learning community in the realization of our human potential. 'Noetic' comes from the Greek word nous, which means 'intuitive mind' or 'inner knowing.' IONS conducts, sponsors, and collaborates on leading-edge research into the potentials and powers of consciousness, exploring phenomena that do not necessarily fit conventional scientific models while maintaining a commitment to scientific rigor." IONS sponsors and participates in original research and publication of articles in peer-reviewed journals, applies the findings toward educational products and trainings, and presents and cosponsors workshops, conferences and seminars.
Books by Dr. Edgar Mitchell
(
Image
by
Edgar Mitchell, used by permission
)
Details
DMCA
MAB: Thank you. You've authored several books, among them, Psychic Exploration: A Challenge for Science, Understanding the Nature and Power of Consciousness, The Way of the Explorer, An Apollo Astronaut's Journey Through the Material and Mystical Worlds, and your newest, Earthrise: My Adventures as an Apollo 14 Astronaut, which was published in 2014.(Chicago Review Press).
This newest book traces the story of your boyhood and career, and includes poignant reminders such as when you lifted off into space, the mission just a few months before yours, Apollo 13, was a harrowing journey with an aborted moon landing, lucky to get back to Earth. You, Shepard and Roosa were originally assigned to that flight, but your team was replaced by Lovell's team due to Shepard's medical issues. And, of course, the Apollo program's beginning was marked by the deaths of astronauts Gus Grissom, Edward White and Rober Chafee in a cabin fire during a launch rehearsal test in 1967. So the program was not without significant risks, and it was thrilling as well as dangerous. And, as you mention in your book, the Apollo 14 mission had its own alarming moments.
List of Astronauts who have walked on the moon.
(
Image
by
Meryl Ann Butler for OpEdNews.com
)
Details
DMCA
Earthrise is written for Young Adult level reading, but the riveting story is appealing to all ages. What do you hope your readers will learn or understand better by reading "Earthrise"?
EDM: I hope readers will get a better appreciation of space flight in our lives--and enjoyable reading...
My biggest work is developing further the understanding of the quantum hologram and how it works in relation to the brain. The real enigma we don't have a handle on yet is the psychokinetic effect. It has to do with intentionality and the quantum hologram, but exactly how that functions physically is not obvious to us...Eventually we will be able to explain it all, because it is natural, not super-natural. It's just our ignorance that causes it to seem supernatural.

--Edgar Mitchell
MAB: I liked what Neil deGrasse Tyson said about your book: "In 'Earthrise,' Edgar Mitchell treats us to a firsthand account of his life--a trajectory that just happens to include a visit to the Moon as an Apollo 14 astronaut. We learn how such views of the universe have the power to transform your feelings, your emotions, and your state of mind. Edgar Mitchell was a different person upon returning to Earth, having obtained a cosmic perspective on life that so few of us will ever achieve."
Earth rises over the moon, photo by Edgar Mitchell
(
Image
by
NASA / public domain
)
Details
DMCA
I understand that you'll be headlining an upcoming conference at Edgar Cayce's A.R.E. in Virginia Beach, VA.
EDM: Yes it is the "Breakthroughs to a New Consciousness Conference," March 27-29, and my topic is "Moonflight: An Apollo Astronaut's Journey Through the Material and Mystical Worlds." I'll present a Powerpoint program on my trip to the moon, and answer any questions on consciousness work.
MAB: I am looking forward to being there! Thanks again for taking time to visit with us!
EDM: Thank you.
Footprints on the moon, detail, photo by Edgar Mitchell
(
Image
by
NASA / public domain
)
Details
DMCA
Dr Mitchell will headline the Breakthroughs to a New Consciousness Conference, March 27-29, 2015, at Edgar Cayce's A.R.E., 215 67th Street, Virginia Beach, Va. 23451. For more information please contact the A.R.E. conference registrars at 800-333-4499 or 757-428-3588, ext. 7401, or online at EdgarCayce.org/conferences.
More information about the The Institute of Noetic Sciences is here.