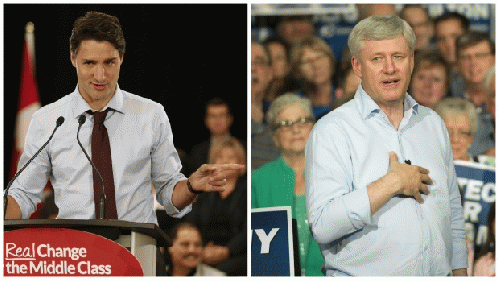 Is Trudeau II really just 'Harper Lite'?
(
Image
by
Canadian Press
)
Details
DMCA
In our last chapter on the reign of the Trudeau dynasty,
we saw Trudeau, Junior at what may prove to be his high point, a coveted state visit to Washington, feted by Americans besotted with royalty, a warmed over 1970s Trudeaumania. No substance, but lots of pretty selfies and photo ops of North America's 'bromance'.
Syrian scam I
But already worrying signs are surfacing. Even as Obama addressed Canada's parliament last month, another prominent America, 'gay international' activist Scott Long , told Torontonians about his nightmare three years in Egypt, where dictator Sisi has launched a high profile campaign to arrest and torture gays. (The later Mubarak regime and the short-lived Muslim Brotherhood interlude did not persecute gays).
At the meeting, I met a Syrian fresh off the refugee 'boat'. He explained (in perfect English) that he had arrived from Egypt, where he and his other gay Syrian friends were given priority in processing their applications for Canadian immigration.
I expressed surprise, as the original refugee policy was not to give visas to any single men, on the pretext that they might be terrorists. "Yes, that was the first batch. I'm part of the second batch," Raad glowed. "My poor Egyptian friends were very jealous. It is impossible for them to get the precious Canadian visa, even though they are really being persecuted now. They live in terror."
So while straight Syrian guys are spurned, their gay brothers are given the coveted top place on the lists of thousands of families, violating stated Canadian policy.
Syrian scam II
No need to bribe whomever to get to the top of the list, as rich Syrians have done. The going rate is $30,000 in Jordan, as one refugee sponsor in Toronto found out. Latif, himself an immigrant, patriotically jumped on Trudeau's well-meant bandwagon and put up the $20,000 to sponsor a family. He rented a large home for them, and prepared a program to help them integrate.
Latif was shocked when they refused to move into their new home, not wanting to abandon their clan at the homey hotel room provided by the Canadian government. They whined that they expected better, that they were promised a swimming pool. Latif handed them back to the government, hurt by their ingratitude, suspecting they were bogus refugees, cutting his losses.
Assad - friend of gays
There is no question that gays nabbed by Daesh et al are bona fide claimants for refugee status. But the motley opposition in Syria are our 'friends', and the legitimate President Bashar Assad is our 'enemy'.
Don't try to tell a Syrian gay that. Contrary to the western media image of a blood-thirsty dictatorship, "the Syrian Arab Republic has never persecuted anyone for motives concerning their private life," writes Thierry Meyssan. The Lebanese daily L'Orient-Le Jour, financed by the European Union (i.e., anti-Assad), slammed the Lebanese government for persecuting gays, but admitted that "under the regime of Bashar Assad, the gay community was enjoying a peaceful existence."
L'Orient-Le Jour was told by a gay Syrian refugee that his period of military service was "the most wonderful years of my life", and that they had "parties in reception halls rented by gay couples to celebrate their union". It was only when Daesh arrived that he was obliged to "hide his pink and yellow pants and practice walking in a more masculine way."
(Note: You can view every article as one long page if you sign up as an Advocate Member, or higher).