Reprinted from Mondoweiss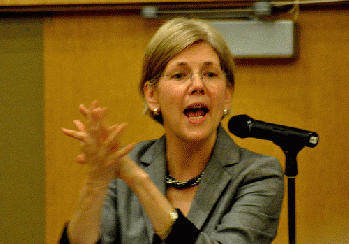 Elizabeth Warren
(
Image
by
mdfriendofhillary
)
Details
DMCA
The news that many progressive US senators as well as vice presidential candidate Tim Kaine signed on to an Israel lobby letter designed to limit President Obama's actions against the Israeli occupation, now nearly 50 years old, has been widely reported, but the plain facts need to be stated.
Yesterday the Israel lobby group AIPAC, the American Israel Public Affairs Committee, flexed its muscle against President Obama and on the side of Israeli PM Benjamin Netanyahu by posting a letter signed by 88 senators warning President Obama not to back any international measures that would pressure Israel to withdraw from occupied territories.
"We urge you to... make it clear that you will veto any one sided UNSC [UN Security Council] resolution that may be offered in the coming months."
The brave senators who did not sign this letter include Democrats Patrick Leahy of VT, Bernie Sanders, Tom Carper of Delaware, and Dick Durbin of Illinois, along with Republican Rand Paul of Kentucky. The letter was circulated by NY Senator Kirsten Gillibrand and got many progressive signatures: Elizabeth Warren, Al Franken, Amy Klobuchar, Ron Wyden, Tammy Baldwin, Chris Murphy, Barbara Mikulski, Barbara Boxer, Cory Booker, Sherrod Brown, Richard Blumenthal, Ed Markey, Jack Reed, right along with John McCain, Mike Lee, Lindsey Graham and John Barrasso.
AIPAC issued a press release announcing the letter and highlighting this passage: "Even well-intentioned initiatives at the United Nations risk locking the parties into positions that will make it more difficult to return to the negotiating table and make the compromises necessary for peace... we must continue to insist that neither we nor any other outsider substitute for the parties to the conflict."
The letter is entirely consistent with the Democratic Party platform pushed through by Hillary Clinton in July, which removed references to occupation and settlements; Cornel West said then that the party was "beholden to AIPAC."
Haaretz's Barak Ravid's interpretation:
"Fearing post-election UN peace push by Obama, 88 Democratic and Republican senators tell president even well intentioned initiatives could make it more difficult to resolve conflict."
Jason Ditz at antiwar.com:
"The letter was penned by the lobby at the behest of Israeli Prime Minister Benjamin Netanyahu, whose office is concerned that years of acrimony between him and Obama might lead Obama to not veto a French resolution on the peace process if it comes between the November election and the day he leaves office."
There is that French initiative:
"In the absence of any US led initiative, France has since made a push for a multi-lateral regional summit and has spoken of a resolution before the United Nations Security Council to set the contours of a new peace process."
President Obama and Israeli Prime Minister Benjamin Netanyahu are to meet today in New York. The president is expected to launch some sort of initiative re the occupation in the last months of his presidency. His speech yesterday to the UN General Assembly offered just one line on the conflict:
"And surely, Israelis and Palestinians will be better off if Palestinians reject incitement and recognize the legitimacy of Israel, but Israel recognizes that it cannot permanently occupy and settle Palestinian land."
(Note: You can view every article as one long page if you sign up as an Advocate Member, or higher).