Reprinted from Consortium News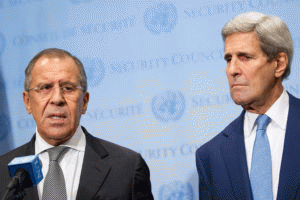 Secretary of State John Kerry (right) and Russian Foreign Minister Sergey Lavrov.
(
Image
by
(U.N. photo)
)
Details
DMCA
Secretary of State John Kerry has engaged in another rush to judgment blaming the Russians for an attack on a United Nations relief convoy in Syria before any thorough investigation could be conducted and thus prejudicing whatever might follow, as he did with the Syrian sarin case in 2013 and the shoot-down of Malaysia Airlines Flight 17 in 2014.
Eager to go on the propaganda offensive -- especially after a U.S. military airstrike last Saturday killed scores of Syrian soldiers who were battling the Islamic State in eastern Syria -- Kerry pounced on an initial report that the attack on the convoy on Monday was an airstrike and then insisted that the Russians must have been responsible because one of their jets was supposedly in the area.
But the United Nations -- and I'm told CIA analysts -- have not ruled out the possibility that the convoy was instead hit by a surface-to-surface missile. On Friday, a source briefed by U.S. intelligence said one fear is that the jihadist group, Ahrar al-Sham, which has fought alongside Al Qaeda's Nusra Front but is deemed to be part of the "moderate" opposition, may have used a U.S.-supplied TOW missile in the attack.
Ahrar al-Sham, like some other jihadist groups seeking to overthrow the Syrian government, has objected to limited cease-fires arranged by the Russians and the Americans, which still allowed attacks on its ally, the recently rebranded Nusra Front. Ahrar al-Sham thus had a motive for destroying the aid convoy, an act which indeed has upended efforts to negotiate an end to the five-year-old conflict and led to bloody new attacks inside the embattled city of Aleppo on Friday.
Another possibility was that a Syrian government warplane was targeting a rebel artillery piece traveling alongside the convoy and struck the convoy by accident. But the assignment of blame required additional investigation, as other international officials acknowledged.
On Tuesday, a day before Kerry's outburst, the U.N. revised its initial statement citing an airstrike, with Jens Laerke, a humanitarian affairs representative for the U.N., saying: "We are not in a position to determine whether these were in fact airstrikes. We are in a position to say that the convoy was attacked." He called the earlier reference to an airstrike a drafting error.
Nevertheless, on Wednesday, Kerry made his high-profile denunciation of the Russians at the U.N. Security Council, the same venue where Secretary of State Colin Powell in 2003 presented a false case against Iraq for possessing hidden stockpiles of WMD. In fiery comments, Kerry accused Russian Foreign Minister Sergey Lavrov of living "in a parallel universe" in denying Russian responsibility.
From newworldencyclopedia.org/entry/Colin_Powell: U.S. Secretary of State Colin Powell presents a dummy vial of anthrax
(
Image
by
newworldencyclopedia.org
)
Details
DMCA
"The eyewitnesses will tell you what happened," Kerry said. "The place turned into hell and fighter jets were in the sky."
Yet, the two points don't necessarily connect. Just because there are jets in the sky doesn't mean they fired the rocket that struck the convoy. They might have, but to determine that -- and if so, who was flying the jet that fired the missile -- requires more thorough study.
Kerry also sought to excuse the U.S. airstrike near Deir ez-Zor last Saturday that killed some 62 Syrian soldiers, saying: "We did it, a terrible accident. And within moments of it happening, we acknowledged it. ... But I got to tell you, people running around with guns on the ground, from the air, is a very different thing from trucks in a convoy with big U.N. markings all over them."
But what Kerry ignored was the fact that the United States has no legal authority to be conducting military operations inside Syria, attacks supposedly targeting the terrorist Islamic State but lacking the approval of the Syrian government. In other words, under international law, any such U.S. attacks are acts of aggression and thus war crimes.
The mainstream U.S. news media, however, has little regard for international law, at least when the U.S. government is violating it, nor particular care for factual details. Despite the U.N.'s uncertainty about what struck the convoy, The New York Times continued to report the airstrike as a flat fact.
On Thursday, the Times wrote, "a convoy of trucks taking aid to the besieged of Aleppo was destroyed in a deadly airstrike." Strangely, later in the article, the Times does note that "the United Nations has not confirmed what struck its trucks."
(Note: You can view every article as one long page if you sign up as an Advocate Member, or higher).