Reprinted from Consortium News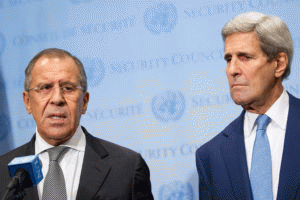 (
Image
by
(U.N. photo)
)
Details
DMCA
Secretary of State John Kerry has engaged in another rush to judgment blaming the Russians for an attack on a United Nations relief convoy in Syria before any thorough investigation could be conducted and thus prejudicing whatever might follow, as he did with the Syrian sarin case in 2013 and the shoot-down of Malaysia Airlines Flight 17 in 2014.
Eager to go on the propaganda offensive -- especially after a U.S. military airstrike last Saturday killed scores of Syrian soldiers who were battling the Islamic State in eastern Syria -- Kerry pounced on an initial report that the attack on the convoy on Monday was an airstrike and then insisted that the Russians must have been responsible because one of their jets was supposedly in the area.
But the United Nations -- and I'm told CIA analysts -- have not ruled out the possibility that the convoy was instead hit by a surface-to-surface missile. On Friday, a source briefed by U.S. intelligence said one fear is that the jihadist group, Ahrar al-Sham, which has fought alongside Al Qaeda's Nusra Front but is deemed to be part of the "moderate" opposition, may have used a U.S.-supplied TOW missile in the attack.
Ahrar al-Sham, like some other jihadist groups seeking to overthrow the Syrian government, has objected to limited cease-fires arranged by the Russians and the Americans, which still allowed attacks on its ally, the recently rebranded Nusra Front. Ahrar al-Sham thus had a motive for destroying the aid convoy, an act which indeed has upended efforts to negotiate an end to the five-year-old conflict and led to bloody new attacks inside the embattled city of Aleppo on Friday.
Another possibility was that a Syrian government warplane was targeting a rebel artillery piece traveling alongside the convoy and struck the convoy by accident. But the assignment of blame required additional investigation, as other international officials acknowledged.
On Tuesday, a day before Kerry's outburst, the U.N. revised its initial statement citing an airstrike, with Jens Laerke, a humanitarian affairs representative for the U.N., saying: "We are not in a position to determine whether these were in fact airstrikes. We are in a position to say that the convoy was attacked." He called the earlier reference to an airstrike a drafting error.
Nevertheless, on Wednesday, Kerry made his high-profile denunciation of the Russians at the U.N. Security Council, the same venue where Secretary of State Colin Powell in 2003 presented a false case against Iraq for possessing hidden stockpiles of WMD. In fiery comments, Kerry accused Russian Foreign Minister Sergey Lavrov of living "in a parallel universe" in denying Russian responsibility.
On Aug. 30, 2013, Kerry gave a thunderous speech virtually declaring war on Syria for supposedly launching a sarin gas attack outside Damascus on Aug. 21, 2013, that killed hundreds of people. On Aug. 31, however, President Obama pulled the rug out from under Kerry by shelving plans for a retaliatory bombing campaign, in part, because U.S. and British intelligence analysts expressed doubts that the Syrian government was responsible.
Later, evidence built up supporting a counter thesis that the sarin attack was launched by Syrian rebels trying to draw the U.S. military into the conflict on their side. In other words, Kerry almost put the U.S. government in position of aiding Al Qaeda or the Islamic State over-running Damascus under dubious if not false pretenses. [See Consortiunews.com's "The Collapsing Syria Sarin Case."]
But U.N. investigators have remained under intense pressure to give the U.S. government something so it can keep alive the theme of Syria's government using chemical weapons, even after Syria agreed to surrender all its chemical weapons in 2013. The U.N. did so in late August in blaming the Syrian government for two thinly evidenced cases of jerry-rigged chlorine bombs, after brushing aside witness testimony that rebels were staging such attacks for propaganda purposes.
- Advertisement -
Regarding the sarin case, the U.S. government never formally recanted Kerry's rush to judgment allowing the conventional wisdom inside Official Washington (and its compliant mainstream media) to remain that Obama failed to enforce his "red line" against use of chemical weapons.
Kerry was at it again just three days after Malaysia Airlines Flight 17 was shot down over eastern Ukraine on July 17, 2014, insisting that the U.S. government had radar and other conclusive evidence showing exactly where the missile was fired and making clear that Russian-backed rebels were responsible with the Russians also at fault for giving the rebels the anti-aircraft weapon.
However, after CIA and other Western intelligence analysts had more time to review what actually happened -- and found that only Ukrainian government forces had anti-aircraft missiles in the area capable of shooting down a plane at 33,000 feet -- the U.S. government went silent, refusing to make public its evidence but keeping alive the impression that the Russians were at fault.