Republished from China Rising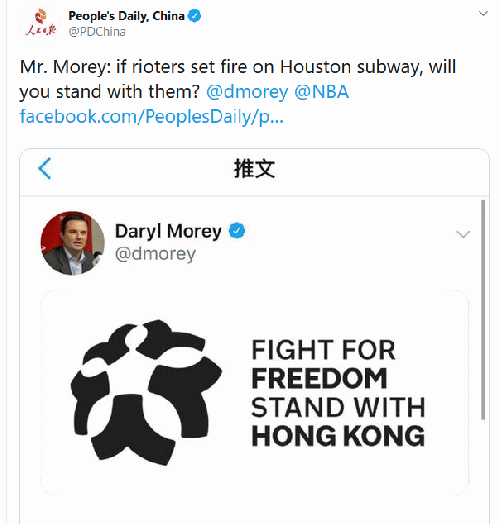 NBA is big business in China
(
Image
by
Jeff J. Brown
)
Details
DMCA
NBA Commissioner Adam Silver's press conference two days ago in Japan tells you everything you need to know about the West's racist attitudes towards the rest of Planet Earth's peoples - and as a result has dug a very, very deep Chinese grave for his organization (https://edition.cnn.com/2019/10/08/media/nba-adam-silver/index.html). He said he will not apologize for Houston Rocket GM Daryl Morey's tweet, pictured above (which has since been deleted from his account), nor has Morey, who just can't seem to understand the "unexpected" reaction in China.
As People's Daily commented in the above tweet,
Mr Morey: if rioters set fire on (the) Houston subway, will you stand with them?
NBA is big business in China. Every year, it makes about $120,000,000 off the Chinese market. It is already 10% of its global revenue and is projected to be 20% by 2030. Tencent's contract for digital broadcasting rights alone is $1.5 billion. CCTV, the country's biggest television station, has stopped broadcasting all NBA games. Exhibition games here are being canceled. Merchandise is being pulled from Taobao, China's Amazon. Media stars like actor Wu Jinyan and singer Fan Chengcheng have also announced they are boycotting the NBA.
All official Chinese sponsors have dropped the NBA, including,
Anta Sportswear
Changhong Appliances
China Mobile subsidiary Migu
Ctrip Travel
Dicos Restaurants
Dongfeng Nissan
eHi Car Services
Luckin Coffee