If you are twenty four or younger, you are likely either under or unemployed. Only about 60% of those 16 to 24 years old are in the labor force (those employed or seeking jobs). Their unemployment rate is 18%.
For years, Money Party lackeys, our (s)elected officials, put out a propaganda line that said, Get an education or there's no future for you. Well, lots of people got a college or trade school education or on the job training and there are no jobs for them.
Here's why.

There has been no increase in jobs in the United States since 2000. In fact, the number of jobs relative to the total workforce has actually declined. Negative job growth for eleven years shows that the current economic system has failed miserably. Here's the ugly picture the rulers won't talk about.
Negative job growth for over an entire decade: how could that be?
The Money Party had enough in the bank to spend $5 trillion and counting on Iraq and Afghanistan.
The party had enough to provide Wall Street with several trillion in loans and with guarantees of $100 trillion ($24 trillion at risk for the bailouts and $75 trillion for Bank of America derivatives).
The Money Party was particularly generous with foreign countries with free trade agreements and outsourcing all sorts of jobs.
Why aren't there jobs for you? Where's the commitment to those entering the job market?
They've picked every apple in the orchard and they're not stopping. They got their war on in Libya with no problem. They build weapons that cost trillions of dollars. There are tax breaks for the largest corporations (GE paid no taxes in 2010). The generosity of the money party is endless until it comes to the people who do the work, make the sacrifices, and bear the burden. Then the party says it's time for you to sacrifice. What they're really telling us is this: We are nothing to them.
Here's how bad it is if your 16 to 24 years old.
The situation for citizens 16 to 24 years old is even worse. Only about 60% of the youth population is in the work force, working or seeking a job. 18% are unemployed. Work for this group involves predominantly low paying jobs. It's getting worse by the year. Youth unemployment was 14% in 2008. At 18%, the 2011 rate is up 29% since then. In absolute numbers, there are 2.4 million fewer youth employed in 2011 compared to 2008.
- Advertisement -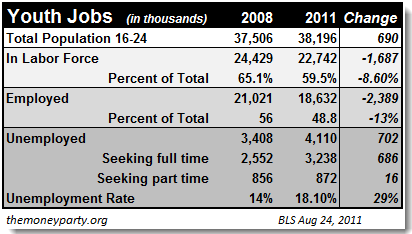 Employment and Unemployment Among Youth -- Summer 2011

Free trade agreements and off-shoring have assured that many good paying jobs were exported to other countries, never to return. For those jobs remaining, the anti-union campaign by the Money Party over the past decades assures that the remaining jobs will continue to offer the lowest pay possible. Many jobs are part time assuring no health or other benefits. Many full time jobs for younger workers have reduced benefits. And try being self-employed and having health insurance. The costs are brutal.