See original here

Saffuriya was levelled in the Nakba and replaced by a Jewish moshav. But its memory burns bright for many forced to flee during Israel's creation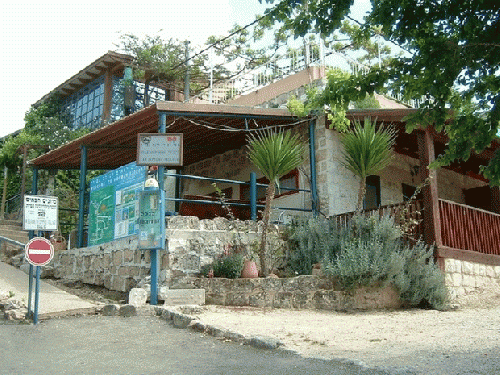 The only Palestinian home still standing in Tzipori is a bed and breakfast called 'Zippori Village' (MEE/Jonathan Cook)

(

Image

by Photo by Jonathan Cook)

Details DMCA



The Israeli farming community of Tzipori is littered with clues -- at least, for those prepared to look -- to a way of life extinguished seven decades ago.
Close by sheep pens and behind a mass of prickly-pear cactuses are to be found crumbling tombs and stones tracing out graves. On the other side of the valley, the floor of a pine forest is strewn with rubble, all that is now left of hundreds of homes that were razed.
And at the entrance to Tzipori is an old stone wall surrounding a small spring, where plentiful water gushes forth after winter rains.
These are the remains of Saffuriya, a Palestinian village that existed for hundreds of years close to the city of Nazareth in the Lower Galilee -- until its destruction in 1948.
Saffuriya was one of more than 500 Palestinian villages levelled by the Israeli army in events known in Arabic as the Nakba, or Catastrophe. Some 750,000 Palestinians were forced into exile, dispossessed of their homeland, as a self-professed Jewish state was built over the ruins.
This week, in accordance with the Hebrew calendar, Israel officially celebrates the 70th anniversary of the state's founding -- nearly a month before Palestinians commemorate the Nakba on 15 May.
But a significant section of Israel's population will be in sombre mood on 19 April. It will not be their independence day.
One in five citizens of Israel is Palestinian, descendants of those who managed to avoid expulsion from the new state of Israel in 1948 as it was established on 78 percent of historic Palestine.
Today, they number some 1.7 million.
Expulsion operations
Most discussions about Palestinian refugees focus on the millions in camps across the Middle East -- in Lebanon, Syria, Jordan and in the Israeli-occupied territories of the West Bank and Gaza. Usually overlooked are the several hundred thousand Palestinians still living in Israel who were internally displaced by the Nakba.
Significant numbers of Saffuriya's population evaded Israeli soldiers in 1948 and hid in Nazareth and other locations spared the expulsion operations, noted Ilan Pappe, an Israeli historian and author of The Ethnic Cleansing of Palestine, a study of the Nakba.
When it became clear they would not be allowed home, Saffuriya's refugees slowly re-established their lives on the outskirts of Nazareth, in a new neighborhood they called Safafra, named after their former village and on a hillside overlooking it.
Next Page 1 | 2 | 3 | 4 | 5 | 6 | 7
(Note: You can view every article as one long page if you sign up as an Advocate Member, or higher).