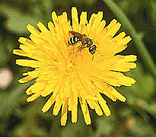 dandelion
(
Image
by
Scott Bauer
)
Details
DMCA
There is a particular plant which some have labeled a weed in which there is a private national optional war to eradicate. It is ubiquitous in many parts of the United States. There is a fervor by many Americans to purge it from their yards and lawns. Somehow through its very commonness it has become a threat, an unwholesome plant, and a scourge upon the modern lawn of green grass. Why does this plant which populates the common yard need eradication? Some homeowners have immense pride in their lawns and they consider this plant menacing and sinister. It is the baneful blight of the dandelion that has stirred the national ire of so many who lavish funds for its obliteration and annihilation on their grassy carpet.
The dandelion has become an unwanted specimen in countless yards, front and back. The dandelion's existence is a bane upon many homeowners who spend collectively millions of dollars for its elimination on their property. The dandelion has become a fugitive, for once it is seen on a beautiful green lawn it is often removed by chemicals, herbicides and other concoctions which if used as recommended by the manufacturer is safe for humans, though there are no guarantees that government will vouchsafe.
Our government through National Institutes of Health in the National Center for Complementary and Alternative Medicines states that "dandelion greens are edible and a rich source of vitamin A."
It goes on to state that , "historically, dandelion was most commonly used to treat liver diseases, kidney diseases, and spleen problems. Less commonly, dandelion was used to treat digestive problems and skin conditions. Today, dandelion is used by some as a liver or kidney "tonic," as a diuretic, and for minor digestive problems. The leaves and roots of the dandelion, or the whole plant, are used fresh or dried in teas, capsules, or extracts. Dandelion leaves are used in salads or as a cooked green, and the flowers are used to make wine."
It finally states that "there is no compelling scientific evidence for using dandelion as a treatment for any medical condition." Though if one were stranded and starving one could eat the dandelions' green leaves to survive and live on until rescued, that's not on the government website.
How did the onslaught against the dandelion begin? Will it become folklore of a lost civilization mixed with myth, fabrication and fancy? Or is a thick grassy lawn defiled by the weedy dandelion which besmirches and sullies the grass, potentially overtaking it and supplanting it against the norms of neighborhoods who can afford to wage an optional war against the dandelion, a war like the optional wars of a superpower that sees in the green world so many unruly dandelions.
Despite the claims of manufacturers of the safety of herbicides the Scientific American magazine article Weed-Whacking Herbicide Proves Deadly to Human Cells asserts that researchers have found that primary ingredients in herbicides are harmful to human cells in the laboratory. The chemical giant Monsanto, one of the country's largest producers of weed killing herbicides, claims the studies are faulty and their products are safe when used according to directions on their package.
(Note: You can view every article as one long page if you sign up as an Advocate Member, or higher).