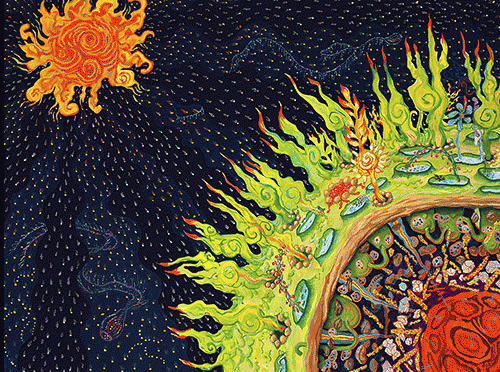 The Deep

(

Image

by

Shoshanah Dubiner

)

Details DMCA

It's time for a new Marshall Plan. This time the beneficiary would be not a war-blasted Europe in the late 1940s but U.S. infrastructure that is deteriorating and incomplete. We need to build it for the twenty-first century. Instead of counter-productive trade wars, we would create good jobs here at home

This would be a platform to run on.

In 1947, at the Harvard commencement, U.S. Secretary of State George Marshall proposed to support the economic recovery of war-wrecked Europe, an initiative put into practice by the next year to widespread praise.

In describing the earlier Lend-Lease program of U.S. military aid to a desperate Britain, Prime Minister Winston Churchill had called it, using an English double-negative, "the most unsordid" financial act in human history. This phrase could have been later applied , and was widely thought to have been applied by Churchill, to what became the Marshall Plan.

What about now? The beneficiary right here in the U.S. would be our slowly decaying and inadequate infrastructure. We can build an infrastructure that will serve as the very basis of our prosperity in the rest of the twenty-first century.

According to the American Society of Civil Engineers (ASCE), our infrastructure now merits an overall grade of only D+. One iconic event was the collapse of a major bridge in the Twin Cities, a bridge over the Mississippi River that failed during rush hour.

Unlike the rubble in bombed European cities after World War Two, the decay in and inadequacy of our infrastructure is largely invisible. The task now is not just to rebuild much of the infrastructure, but also to extend it to meet new challenges and opportunities.

According to the ASCE website, a vibrant program of building infrastructure for the twenty-first century would give us both jobs and new bridges, dams, energy systems, parks, public transit, rails, runways, sewers, water works, ways to disposal of hazardous and solid waste, and the rest of the facilities used by a vibrant economy.

For example, a Marshall Plan at home would give us a big opportunity to create a renewable energy infrastructure and thus set an example for the rest of the world. Why should we let other nations, such as China, take the leadership in renewable energy ?

You can't fix long-neglected infrastructure without creating good jobs, and also laying the groundwork for prosperity not only of the bubbly stock market but of the real economy. More than anything, this would benefit people who have lost out in the new millennium.

All this would create pride that ours is a country not lost in hoping for a return to the past, but is preparing for the future.

One element of an infrastructure for the twenty-first century would be a large-scale system of renewable energy, as used in business and industry, in domestic life, and in transportation. Why should we persist in an energy system that, according to the consensus of scientists, causes global warming? At last we would escape, and be able to help others escape, the worsening of global warming by the combustion of fossil fuels such as coal, oil, and natural gas.

A program of transition to renewable energy would mean that new cars and trucks would emit much less or no carbon, and kits could bed developed for the conversion of existing vehicles. The country that took the lead in developing the internet can surely move rapidly toward taking the carbon out of its transportation system.

Resistance to the transition to renewable energy has come, in part, from the purveyors of coal, oil, and natural gas. But iunstead of demonizing these industries, we could give them strong economic incentives to leave their "reserves" in the ground, and shift their assets from a system that has unintentionally threatened our future to a system that is fit for the new era. What about a transition trust that would receive stranded assets from these industries and give benefits to the entities that donated them?

It was fossil fuels that powered the industrial revolution, and that today runs out cars, furnaces and air conditioners, stoves, and other appliances. But a consensus of relevant scientists has now discovered a flaw, a fatal flaw: emissions from fossil fuels are warming the earth.

This isn't fair but despite the repetition of bad arguments from deniers, it is reality. The consequences have been thoroughly described, but so far most of us have felt paralyzed. It will take a massive positive program to enlist our energy in support of a new economy.

The question is whether we are chasing a past or building g a future.