It's going to take more than protests and petitions and individual or mass hand-wringing. Everything these days is about money. If we didn't know that, we have Trump and his Plutocrat Myrmidons to remind us. So what might just give pause are things that hit below the national money belt. I am talking about mass actions, nonviolent but tremendously potent: massive consumer boycotts, massive tax revolts (put the money in escrow, contingent on the meeting of demands), focal and general strikes, sit-ins at county elections offices and media outlets, Election Night Opscan Parties (as described in my book, CODE RED).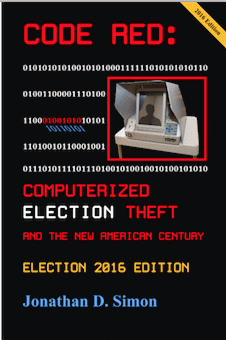 Code Red: Computerized Election Theft and the New American Century, Election 2016 Edition
(
Image
by courtesy of Jonathan Simon)
Details
DMCA
If we blanch at the mere thought of such "European style" actions here in Exceptional America, what do we propose instead? Quiet (or noisy) submission? Armed revolt? Or continuing dutifully to vote, let Dominion and ES&S do the counting in the pitch-dark of cyberspace (after Crosscheck and all the old and new schemes of Jim Crow voter suppression have stripped down the electorate to riggable dimensions), and keep hoping for the best? Is that not the textbook definition of insanity--exactly what we've been doing now for years?
Albert Einstein defined insanity as 'doing the same thing over and over again and expecting different results.'
(
Image
by
Wikipedia (commons.wikimedia.org)
)
Details
DMCA
Hmmm. I like to end these interviews on a positive note. What have you got for us, Jonathan? I realize it's a stretch for you.
Well, for starters, let me thank you for talking with me again and for all these good questions! But I meant the tail part of my response to your last question as something of a "positive note." There's a difference between positive and pleasant.
Silly me!
Who knows, Joan? We may see impeachment (Lord knows the high crimes and misdemeanors will be piling up); we might even see invocation of the 25th Amendment's provisions, which serve as a kind of expedited removal, meant for cases of incapacitating presidential illness, physical or mental. As stacked with scorched-earthers as Trump's cabinet will be, a majority might still be willing to step up and put the brakes on Grade-A insanity, though it's no longer very clear how that would be defined. And there is always the possibility that Trump himself will snap out of what seems best explained as an existential and post-menopausal power trip to rival that of General Jack D. Ripper's , for anyone who remembers their Dr. Strangelove, and settle down to merely governing badly.
But none of those relatively "good" outcomes will do much if anything to deal with the underlying problem, which is that, through the insidious corruption of our electoral process, the American public has lost its sovereignty--the majority no longer rules. In that quest, as crazy as it seems, Trump may be the best thing we have going. Think about it: Obama's election and presidency were like novocaine for election integrity efforts. His victories put millions off the scent: how could he possibly win if the Right could have rigged him out? The answers to that are a whole other interview, but suffice it to say the two are not incompatible. Then on his watch, and despite his relative popularity (GW Bush exited office with an Approval Rating of 22%; Obama's was 58%), Democratic office-holders were routed at every level of government, with 2016 just the capstone set on Rove's stated goal of a "permanent Republican majority." And not a word said or an eyebrow raised by this most intelligent president or his party about result after shocking result and all the forensic red flags. I am not sure that, if Clinton were now president, or even Pence, things would be all that different.