As the book was forming I met my friend the writer, Pam Janis. She read parts of the rough manuscript and strongly encouraged me to turn it into a professional effort. With Pam's guidance and unfailing support, and with input from her colleague Leslie Breed we prepared a book proposal for the agent Howard Yoon. Howard rewrote parts of the proposal with me, and Viking/Penguin--which has has been fabulously supportive--took over from there, giving me the flexibility to develop the manuscript according to the vision I already had in my head.
JB: Well, you made it. The book is finished and now out. I just returned from Boston where I saw it displayed prominently at the Harvard Coop bookstore. Will you be involved in much promoting the book through tours and appearances?
Clark's book's on prestigious 'New Arrivals' table at Harvard Coop Bookstore: location, Location, LOCATION!
(
Image
by Joan Brunwasser)
Details
DMCA
CE: Yes, I will. I've had forty requests for interviews so far, and more are coming in all the time. The book is a number one new release at Amazon in neuroscience, and was even number two in health for a while. The reason: brain injury is a quiet epidemic that has touched so very many lives. For the town-hall appearances, we plan for twenty minutes of questions, and have each time invariably gotten chased from the hall after an hour and a half. For many, these are emotional events. Acknowledgment of the mysterious, puzzling and sometimes devastating symptoms of brain injury is cathartic in itself--I believe this is the first book to treat them in such depth--and the end of my particularly story, where I recover based on a little known tradition of science is of great interest to those who have essentially been told there is nothing that can be done for them. Email and personal communications to me are passionate, and are coming from around the world saying, in essence, "Thank you for telling my story through your words."
As I am able, I will continue to do what I can. The book will do no good if it is not read. My heart goes out to so many still challenged by just getting through the day. I can still feel myself walking around in their shoes. Let's hope that the techniques used to help me will be of use to some of them as well.
I also passionately hope that some of our finest young minds, now in school, will see this as an opportunity to make a real difference in the world, and pick up where Markus and Zelinsky, and others like them have left off.
Lastly, at some point, I believe the book will get picked up in the sports-talk circles, because there is so much in the book relevant to our athletes, both student and professional.
Ultimately I am not important, and my story is not important. What matters are the details of this strange experience of insult to the body and psyche and the introduction to the science of brain plasticity that has so much potential for healing.
JB: I strongly beg to disagree. Your perseverance and willingness to document and then publicize your saga can make a world of difference in opening doors for many who have all but given up. Good luck to you. It's been a fascinating journey, Clark. Thanks for sharing it with me and our readers.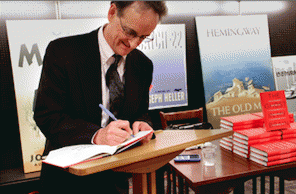 Signing copies of 'The Ghost in My Brain'
(
Image
by
DePaul University/Carol Hughes
)
Details
DMCA
***
Part one of this interview
Clark's website
brief bio: Clark Elliott, PhD, has been a professor of Artificial Intelligence at DePaul University for twenty-seven years. He holds three teaching certificates for music, the B.M., M.M. (music), and M.S. (computer science) degrees, and a Ph.D. from Northwestern University's Institute for the Learning Sciences with an emphasis on computer simulations of human emotion. He lives with his wife and daughter in Evanston, Illinois. He has raised four other children, studies Tai Chi and music every day, and continues as a casual marathon runner.
The Ghost in My Brain: How a Concussion Stole My Life and How the New Science of Brain Plasticity Helped Me Get it Back [Viking, June, 2015]
Video of 12-minute talk Clark gave: Cognitive Rehabilitation after TBI via Retinal Stimulation: A 12-year self-reporting case study
(Note: You can view every article as one long page if you sign up as an Advocate Member, or higher).