Where's the Beef?
We find the New York Times- and Washington Post-led media Blitz against Trump and Putin truly extraordinary, despite our long experience with intelligence/media related issues. On Jan. 6, the day after your top intelligence officials published what we found to be an embarrassingly shoddy report purporting to prove Russian hacking in support of Trump's candidacy, the Times banner headline across all six columns on page 1 read: "PUTIN LED SCHEME TO AID TRUMP, REPORT SAYS."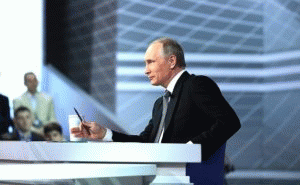 Russian President Vladimir Putin answering questions from Russian citizens at his annual Q&A event on April 14, 2016.
(
Image
by
(Russian government photo)
)
Details
DMCA
The lead article began: "President Vladimir V. Putin of Russia directed a vast cyberattack aimed at denying Hillary Clinton the presidency and installing Donald J. Trump in the Oval Office, the nation's top intelligence agencies said in an extraordinary report they delivered on Friday to Mr. Trump." Eschewing all subtlety, the Times added that the revelations in "this damning report ... undermined the legitimacy" of the President-elect, and "made the case that Mr. Trump was the favored candidate of Mr. Putin."
On page A10, however, Times investigative reporter Scott Shane pointed out: "What is missing from the public report is what many Americans most eagerly anticipated: hard evidence to back up the agencies' claims that the Russian government engineered the election attack. That is a significant omission."
Shane continued, "Instead, the message from the agencies essentially amounts to 'trust us.' There is no discussion of the forensics used to recognize the handiwork of known hacking groups, no mention of intercepted communications between the Kremlin and the hackers, no hint of spies reporting from inside Moscow's propaganda machinery."
Shane added that the intelligence report "offers an obvious reason for leaving out the details, declaring that including 'the precise bases for its assessments' would 'reveal sensitive sources and methods and imperil the ability to collect critical foreign intelligence in the future.'"
Shane added a quote from former National Security Agency lawyer Susan Hennessey: "The unclassified report is underwhelming at best. There is essentially no new information for those who have been paying attention." Ms. Hennessey served as an attorney in NSA's Office of General Counsel and is now a Brookings Fellow in National Security Law.
Everyone Hacks
There is a lot of ambiguity -- whether calculated or not -- about "Russian hacking." "Everyone knows that everyone hacks," says everyone: Russia hacks; China hacks; every nation that can hacks. So do individuals of various nationalities. This is not the question.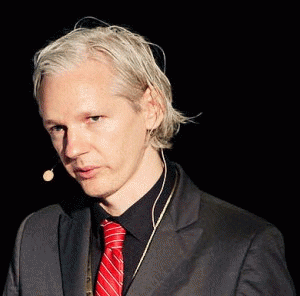 WikiLeaks founder Julian Assange at a media conference in Copenhagen, Denmark.
(
Image
by
(Photo credit: New Media Days / Peter Erichsen)
)
Details
DMCA
You said at your press conference on Dec. 16 "the intelligence that I have seen gives me great confidence in their [U.S. intelligence agencies'] assessment that the Russians carried out this hack." "Which hack?" you were asked. "The hack of the DNC and the hack of John Podesta," you answered.
Earlier during the press conference you alluded to the fact that "the information was in the hands of WikiLeaks." The key question is how the material from "Russian hacking" got to WikiLeaks, because it was WikiLeaks that published the DNC and Podesta emails.
Our VIPS colleague William Binney, who was Technical Director of NSA and created many of the collection systems still in use, assures us that NSA's "cast-iron" coverage -- particularly surrounding Julian Assange and other people associated with WikiLeaks -- would almost certainly have yielded a record of any electronic transfer from Russia to WikiLeaks. Binney has used some of the highly classified slides released by Edward Snowden to demonstrate precisely how NSA accomplishes this using trace mechanisms embedded throughout the network. [See: "U.S. Intel Vets Dispute Russia Hacking Claims," Dec. 12, 2016.]
NSA Must Come Clean
We strongly suggest that you ask NSA for any evidence it may have indicating that the results of Russian hacking were given to WikiLeaks. If NSA can produce such evidence, you may wish to order whatever declassification may be needed and then release the evidence. This would go a long way toward allaying suspicions that no evidence exists. If NSA cannot give you that information -- and quickly -- this would probably mean it does not have any.